A 260,000+ square-foot high school in Washington is performing at Passive House levels of energy efficiency -- despite the owner never having aspired for it to do so.

Passive House was not a stated goal for the architect and owner of Sehome High School in Bellingham, Wash., but the choice of a blower door test to meet a minimum code compliance rule led the project team to discover the enormous structure's building envelope was much tighter than anyone anticipated.
The number they needed to meet in terms of airtightness was a blower door test result lower than 0.4 CFM (cubic feet per minute)/square foot at 75 Pascals. That's the maximum code leakage rate in the state of Washington.
The project team wasn't planning on doing any leak-chasing – going around the building to determine where leaks were happening after an initial blower door test, addressing those by sealing them up, and then testing again. Turns out they wouldn't have needed to anyway.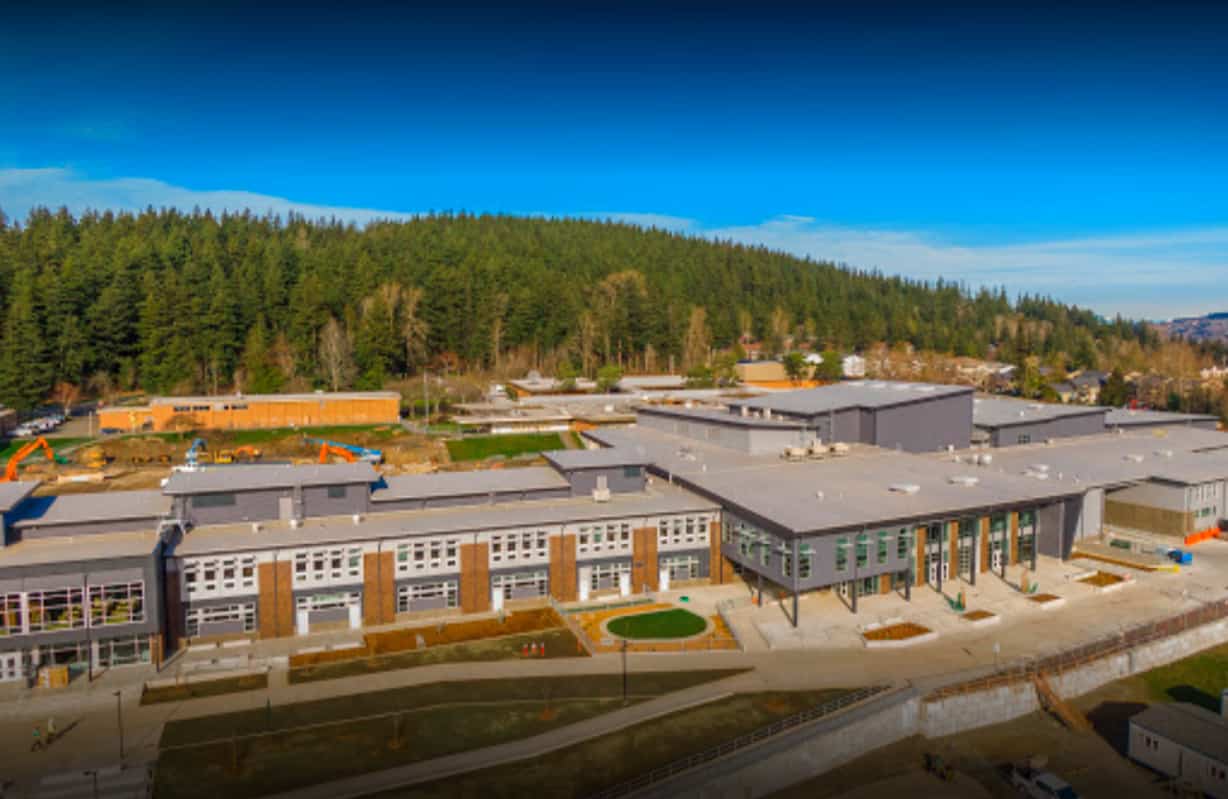 The test yielded a result of 0.095 CFM/sqft at 75 Pascals, well under the maximum allowed by the state. But this result was also just a fraction away from the U.S. Passive House Institute's standard of 0.08 CFM/sqft at 75 Pascals. Their result did meet the requirements of the International Passive House Institute rate of 0.6 ACH50 (air changes per hour at 50 Pascals) -- Sehome HS's test result came well under at 0.39 ACH.
"If you're using the R-Guard system and you don't want Passive House performance, you better bring a drill to the blower door test."
These results were a wonderful yet unexpected surprise. According to Paul Grahovac, manager of codes, standards and field support for PROSOCO, the larger the building, the harder it is to achieve air-tightness at Passive House levels. That's not to say large Passive Houses are impossible – Cornell University recently constructed a 26-story Passive House dormitory in New York City, and a 330,000-square-foot, 276-unit multi-family Passive House called Second + Delaware opened recently in Kansas City, Mo. More and more large-scale Passive House projects are breaking ground everyday, so it's certainly possible. But for a project that didn't have Passive House on its radar as an energy performance goal to achieve it so apparently easily – that's a precedent Grahovac had certainly never seen.
Same goes for Paul Tessier of Masonry Product Sales, the now-retired manufacturer's rep for PROSOCO who was on site to assist with installations of PROSOCO's R-Guard Cat 5 system, including Joint & Seam Filler to fill in small gaps and joints on the sheathing, FastFlash around rough openings, Cat 5 to cover the field of the wall, and AirDam as an air-sealer around windows and doors.
As Grahovac said, "If you use the R-Guard system and you don't want Passive House performance, you better bring a drill to the blower-door test."