Concrete flooring training and apprenticeship offers a whole new life for young ex-cons.
For eight young men recently out of an Atlanta, Ga., prison, concrete is their first job and their second chance.
That's because they just graduated from an 8-week training program hosted by AMPD Initiative (Apprenticeship, Mentorship, Professional Development), an Atlanta-based federally funded trade school created by Tanya Wallace and Terry Jacobs. With donations of time and materials from industry – including distributors, contractors and manufacturers, the program evolved this summer to offer an inaugural session exclusively focused on concrete flooring. The story of how that evolution occurred is the result of a series of fortunate encounters and conversations.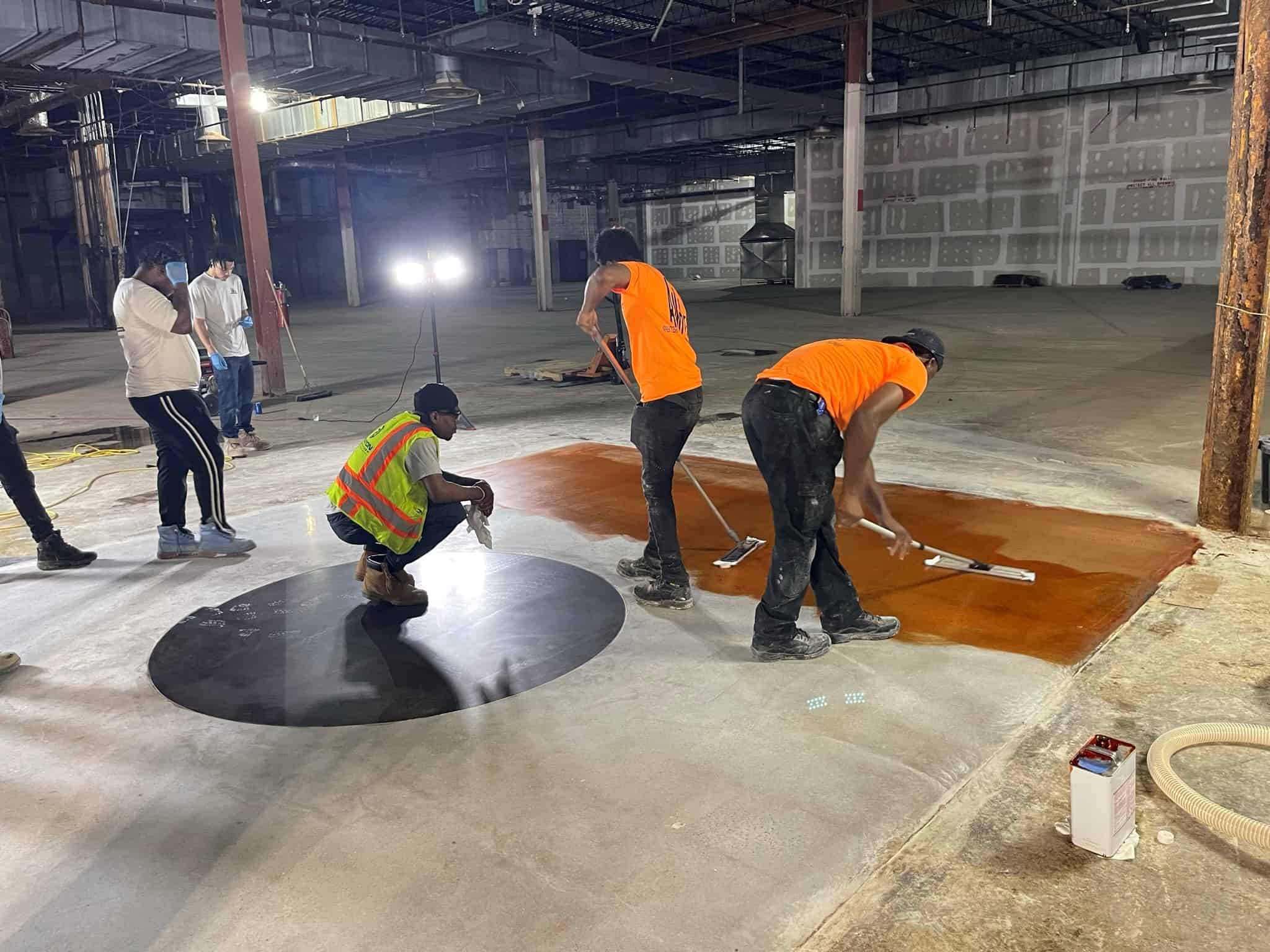 Eric Witcher, district sales manager at GranQuartz, a concrete flooring supplier, said one day in early 2022, Terry Jacobs, a customer of his and owner of T&T Ventures, came into the store and they struck up a conversation about a cause near to them both.
"He had just finished up doing some training for the Atlanta federal penitentiary, which is where I was at the time training inmates on how to polish their own concrete inside the prison," Witcher said. "I said I'd love to be able to find an organization for nonviolent ex-offenders that teaches them the trade that has made my living for 26 years."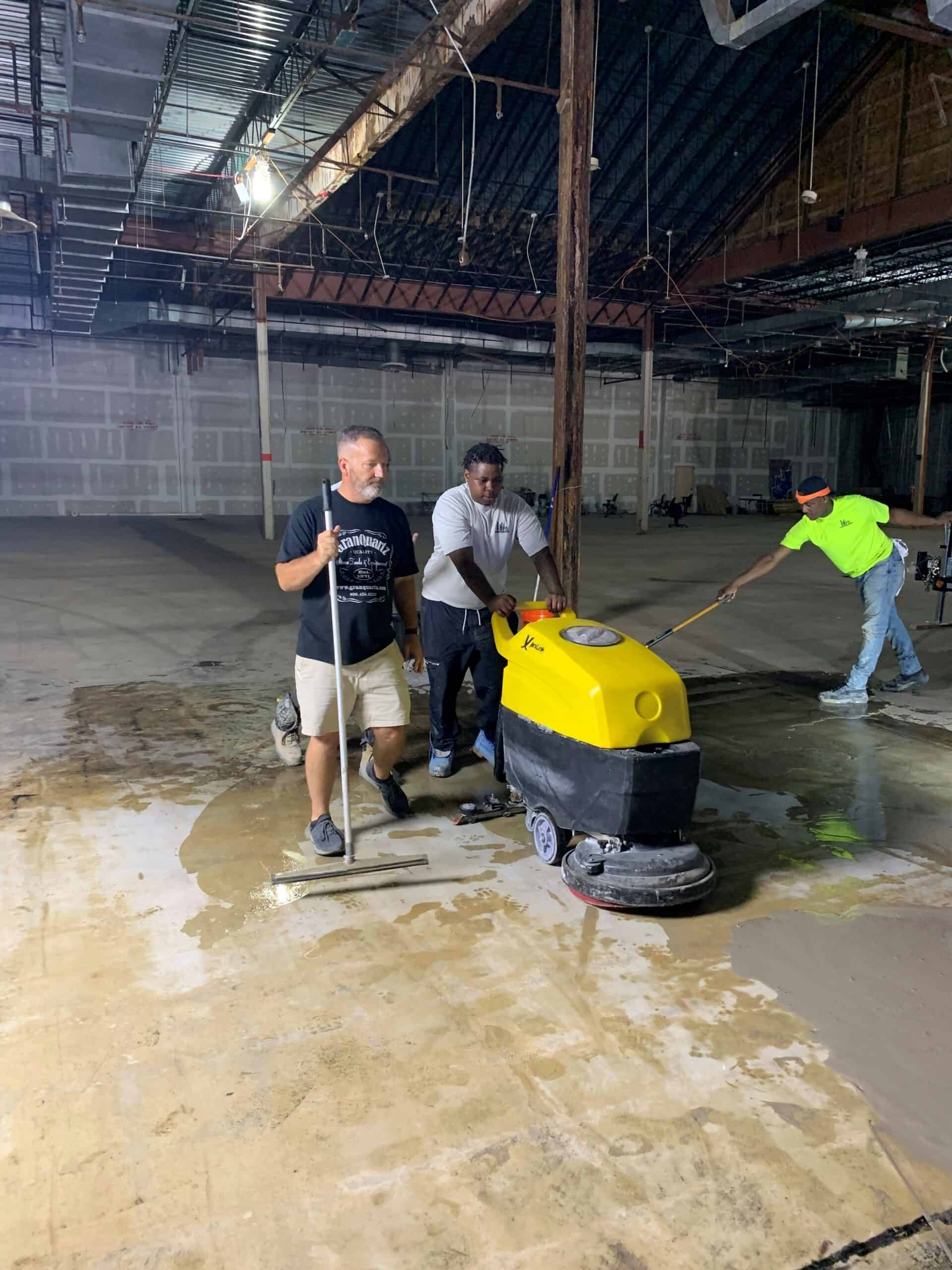 "Terry looked at me and smiled and said, 'Eric, me and my partner are in the middle of developing that exact organization.' He got me in touch with his partner, Tanya Wallace, who is a teacher by trade and organized it all. I helped them build a network and that network includes PROSOCO and even some of my competitors. We just kind of built it right there."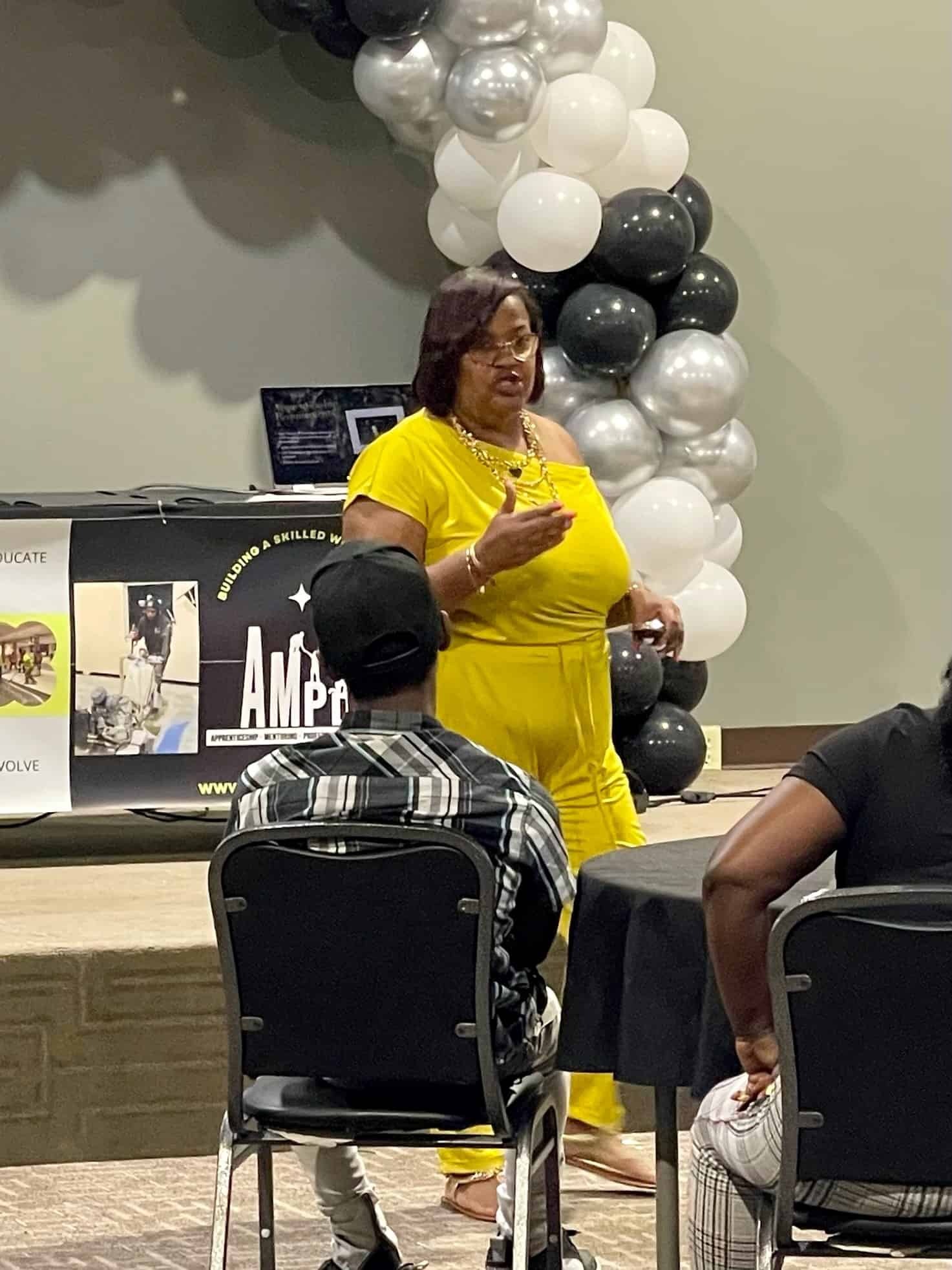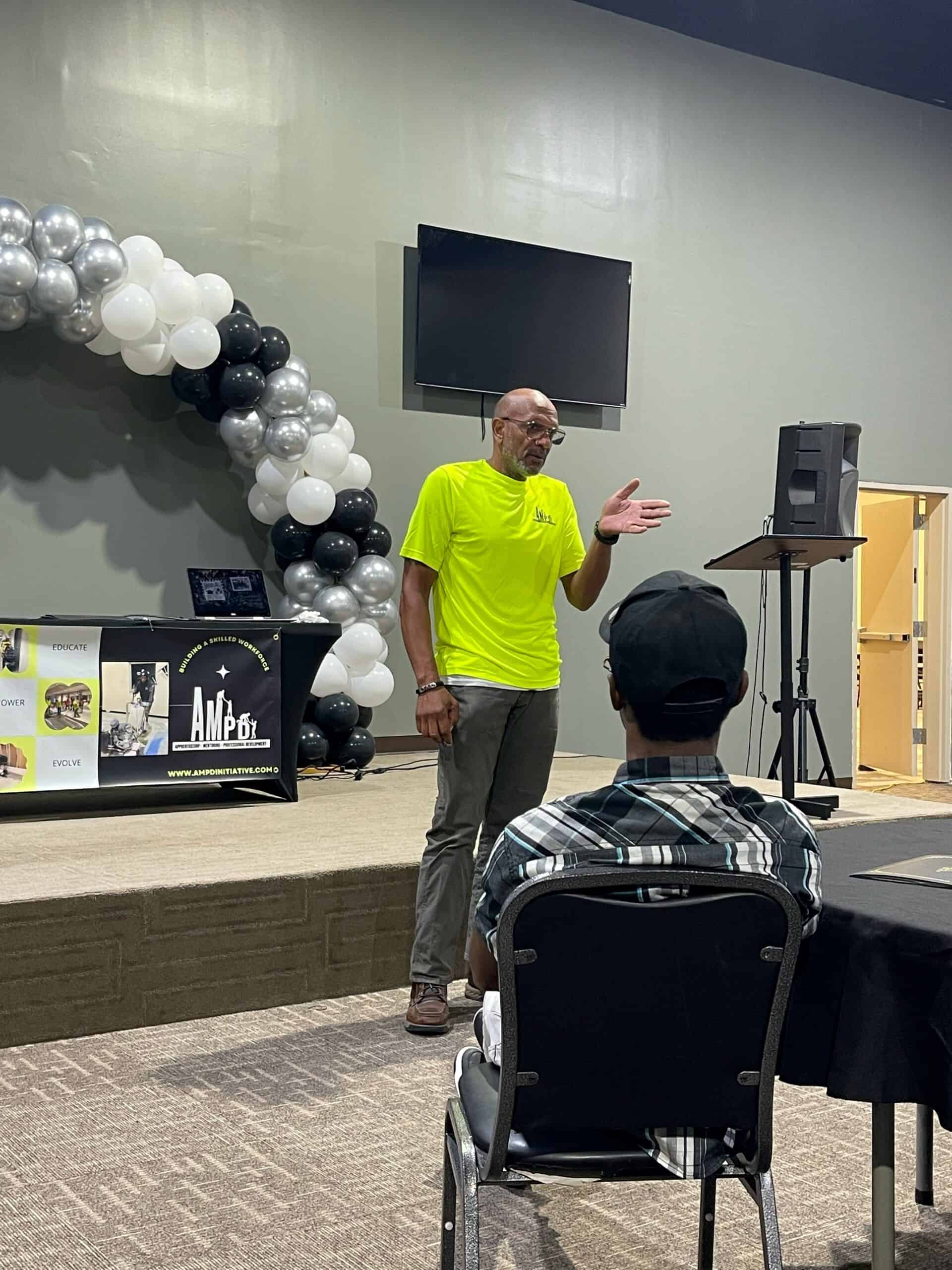 The three quickly put their resources and connections together to determine:
The location: 80,000 square feet of department-store-turned-warehouse, donated by the church that occupies the other half of the space.
The training: (which covers all things concrete, including prep, polishing, chemical densification, epoxy, flake epoxy, urethane cement, overlays, dyes, etc.) Made possible via donations of time and materials from distributors (GranQuartz, Runyon Surface Prep, and JonDon) and manufacturers (PROSOCO, Metzger-McGuire, Sika, United Rentals, and Ardex).
The students: Word-of-mouth quickly reached 12 students for the inaugural 8-week program.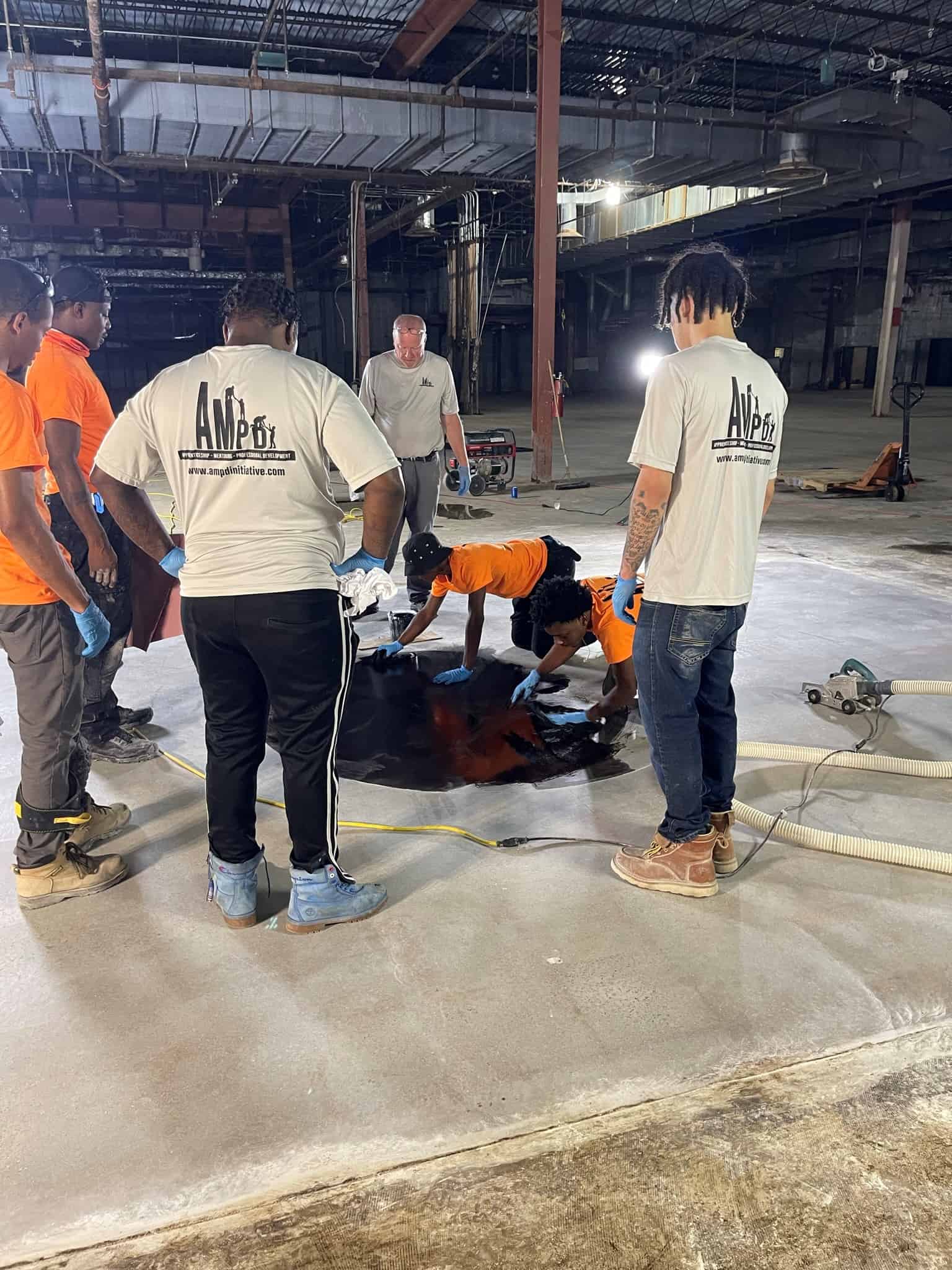 A life-changing result
In mid-2022, 12 students arrived for the beginning of their training – which was not only free but a paid gig for participants.
On day 1, Witcher stood in front of the group and looked out to see young men so shy they barely spoke.
"It took a couple of hours for us to warm up to each other, but once we did, they went from being little kids that were trying to be hardened, to playful little boys," said Witcher. "Once I earned their trust, I started to see big changes in their self-esteem."
Watching their confidence grow over time was an "amazing transformation," Witcher said. "It was like watching a flower bloom. It was absolutely beautiful."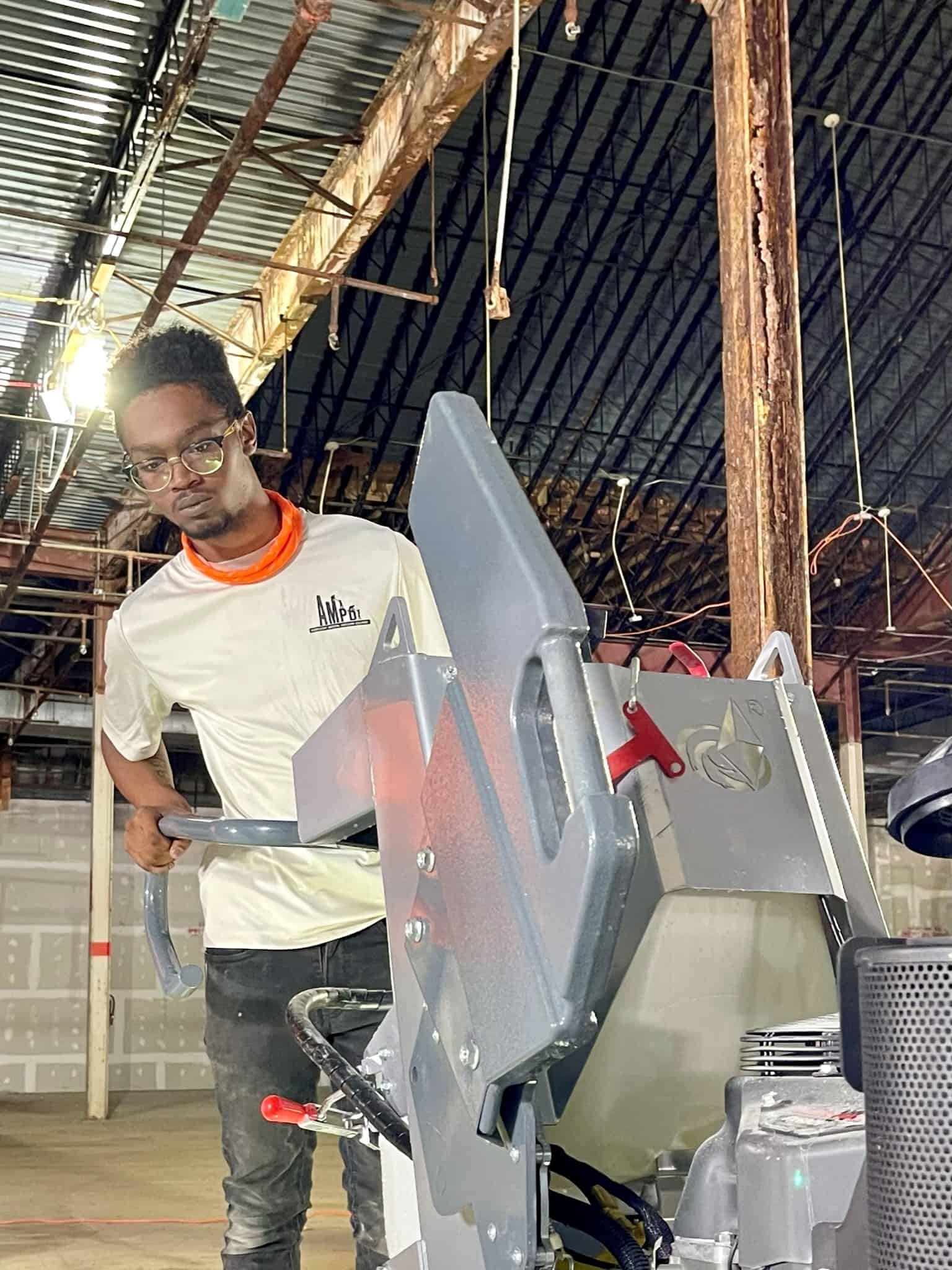 The group learned about all kinds of concrete processes, including three days of training and demos by PROSOCO's Ed Fox, concrete flooring specialist based in North Carolina.
"We went over chemical densification, guards, stains, stencils and dyes," Fox said. "They really enjoyed the artistic elements. But they soaked it all in 100%. Most of these kids are just coming out from getting in fights or minor drug charges. They're as sweet as can be. They showed up. These guys are committed."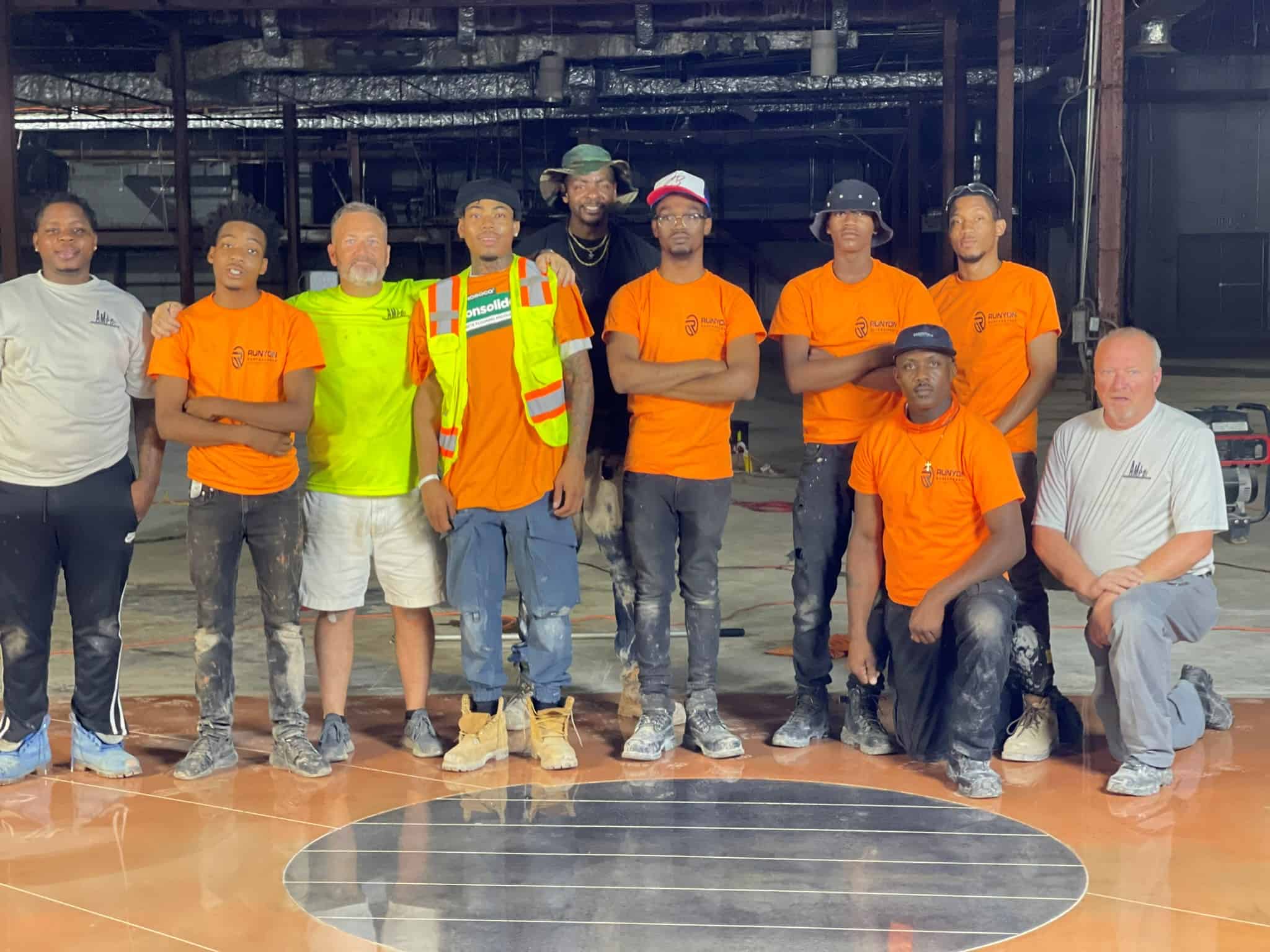 Witcher noticed two of the young men gravitated immediately to a particular piece of equipment.
"I could barely pry the grinder out of their hands," he said. "They loved it. Before my portion of the class was starting one day at 9 am, I pulled into the warehouse and heard my machine running. It was JD. I said, 'I thought you had classroom.' And he said, 'We do but I wanted to be down here first on the machine because if not, they'd hog it.' He never let the machine go the whole day."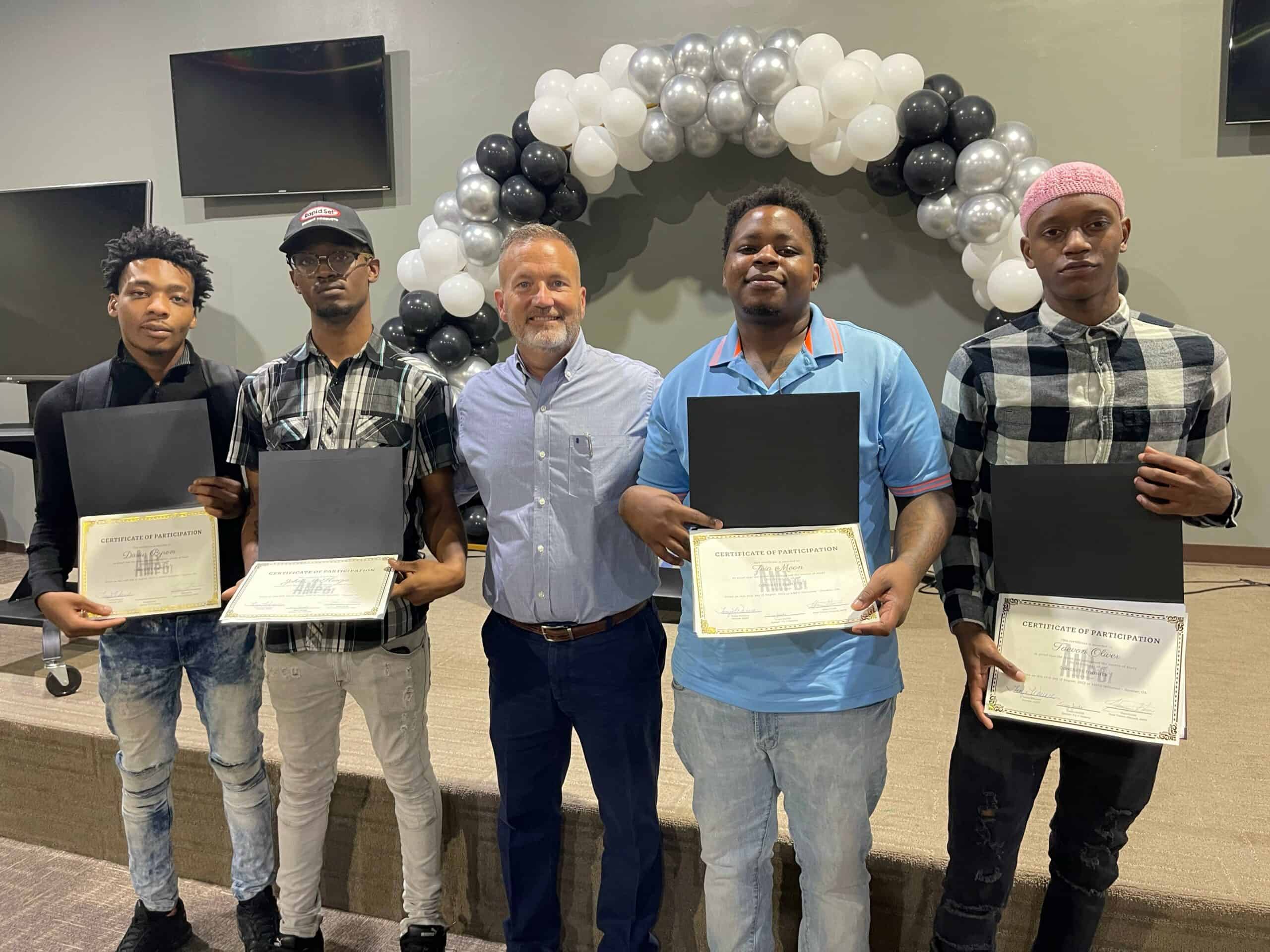 Putting competition aside
At the outset, asking three mega-competitive suppliers in the Atlanta metro to come together did not seem like a successful pursuit. However, Witcher said sales goals went out the window when they were asked to participate in this training.
"We're fierce competitors," Witcher said, referring to JonDon and Runyon. "But there was no hesitancy to be involved. We were all like-minded and nobody showed up to sell or try to steal a contractor. It was amazing to watch us all walk in with no animosity. It was for the kids 100%."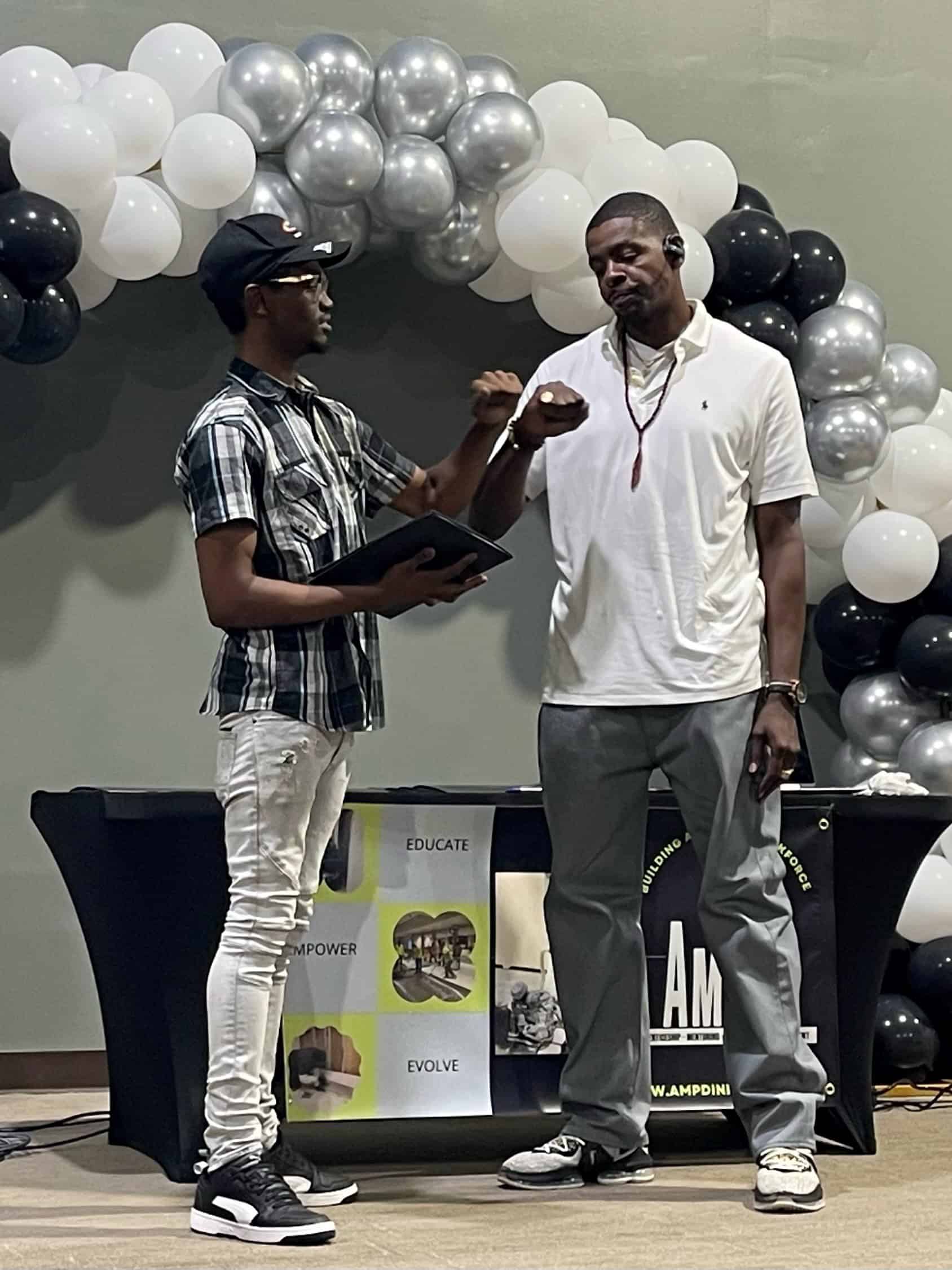 First steps on a new path
At a ceremony in late August, all eight participants who completed the training graduated from the AMPD Initiative, and all eight of those young men received job offers in the Atlanta area.
Part of the ceremony included a speech from a contractor from Birmingham, Ala., who told a story Witcher had never heard before despite knowing him well.  
"I've known him for years and he's never told me about his past," Witcher said. "He grew up in a similar situation as many of these kids. He was in a not so good environment. He got in trouble at 19 and was facing a lot of time. He said he prayed to God that if he got out of this, he'd never come back. He got out and started his own epoxy and polishing business and is very successful. He stood up and talked straight to the kids and not another person in the room, and said, 'If you want it, it's here.'"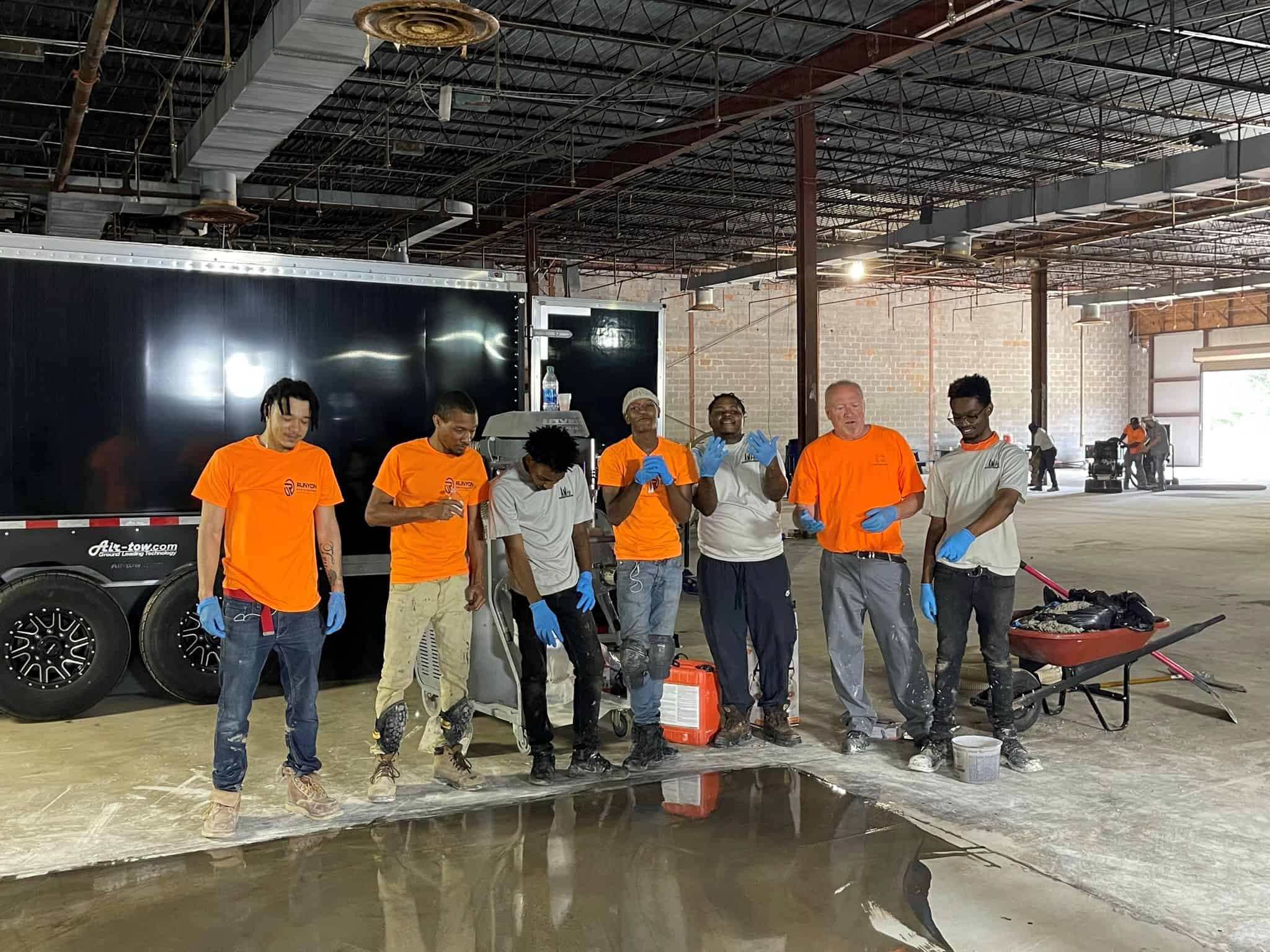 Few dry eyes remained as the ceremony concluded. Witcher couldn't tell who benefited most from it – the students or the adults.
"It's no doubt the best thing I've ever done in my 26-year career for my own heart," Witcher said. "I walked away on cloud 9."
Witcher believes the students appreciated the new skills and career opportunities, but there was something more important they got out of the training.
"What they learned is that there are people who care about them," he said. "They can trust people. There are people out there who do what they say they're going to do, and not everyone's out there to hurt them."
***
The second AMPD Initiative concrete flooring training started Sept. 6. To get involved and learn more, visit the AMPD Initiative website.