When Dan Rockhill was a young boy, he'd go down to the local tire shop to get an inner tube to take to the shore. He and his peers understood the connection – that inner tube of the tire also happened to serve as a superior floating device.
Today, kids get a fake inner tube made of plastic designed to look like the real thing.
That memory exemplifies a dearth that Rockhill, an architecture professor at Kansas University, says has permeated the design and construction of just about everything in our modern world.
"Kids who end up in architecture have been denied the kind of tactile experience of doing much of anything," he said in a recent visit to PROSOCO headquarters in Lawrence, Kan. "You can't even have a kid build a tree fort in a subdivision now. You have to buy these obnoxious, snap-together, plastic kind of things. The whole world is very different."

Twenty years ago, Rockhill developed a program to change all that – to offer his students that tactile experience, one class of future architects at a time. Instead of a studio-only education, his graduate students go through Studio 804 (or what Rockhill endearingly calls boot camp), a class that gives students the real, down-and-dirty deal. They build a structure from start to finish in one school year.
"We find the project, get the funding, do the construction documents, pull the permits, build a house and have it completed by graduation," he said.
Alex Wolfrum (pictured applying FastFlash to a rough opening below), a 5th-year architecture student who just graduated from KU and went through boot camp, is quick to point out how Studio 804 is unlike some other, less intensive programs at other colleges around the country.
"We're one of the only ones that do a building from start to finish in its entirety," said Wolfrum, who came to KU in large part because of Studio 804. "We've done everything from the concrete to mechanical, electrical, plumbing, all the finish work. There's rarely something that we subcontract. We're doing it all here. Everyone's sort of got their own section and takes charge of something, so it's like we have 16 sub-contractors in the group."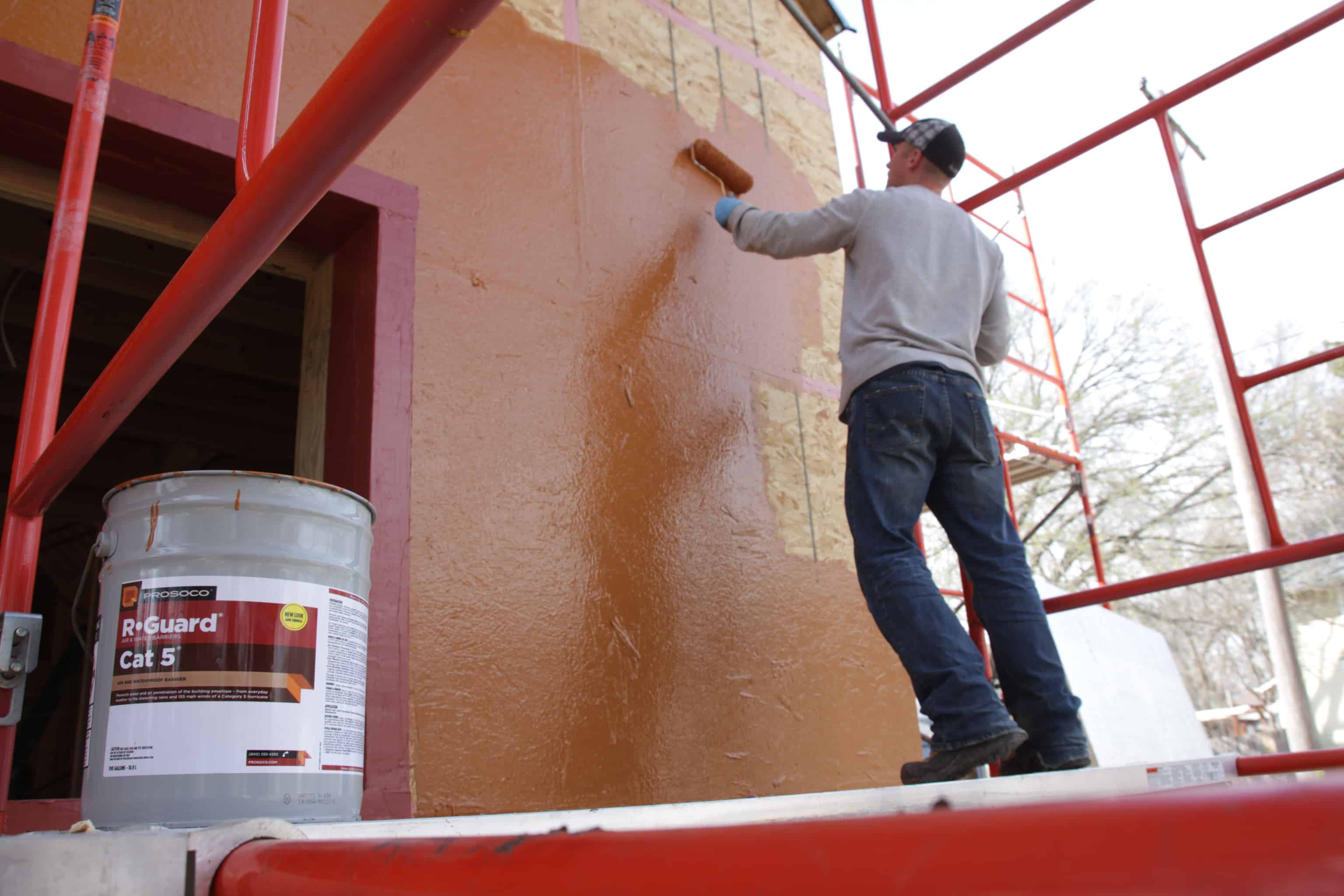 How it all began
Studio 804 originated when Rockhill was teaching a graduate design studio (with a course number of 804). He had a little project of putting a roof on an old schoolhouse out in the country and asked his students to help. He couldn't believe their reactions.
"It was like black and white, between what I described in terms of the typical studio setting versus their being outside and getting a little hands-on experience," he said. "It was very successful."
The next year, he took students out on a similar, small-scale project, and saw a similar response from his students -- overwhelmingly positive.
"I thought that I ought to at least make an effort to try and expand that concept," he said. "I went to the city of Lawrence and said I have a group of eager builders and you have an affordable housing initiative. Why don't we get together? And they said yes."
It started with houses – five of them over five years in Lawrence. Then they moved about 40 miles to the east to Kansas City, where the class completed four houses over the next four years.
Then Greensburg, Kan., became a nationally recognized name via a tremendous tragedy in 2007. An EF5 tornado pummeled the city, leveling an estimated 95 percent of the town and killing 11 people.
In its effort to rebuild, the Greensburg city council passed a law requiring all publicly funded buildings to be built to the U.S. Green Building Council's LEED Platinum standards – the first city in the nation to mandate this green protocol.
Studio 804 was a huge part of it. Rockhill's students that year completed the first public facility in Greensburg – an Arts Center that became the first LEED Platinum building in the state of Kansas and the first one designed and built by students.
Fast-forward to today, and Studio 804 has completed a huge range of projects – from small-scale homes to $1.8 million education buildings.
The program is also on its eighth LEED Platinum project (as of 2015).
"There's not a professional firm in the world that can boast of that many LEED Platinum projects," Rockhill said.
This year's class just completed a residence that can claim LEED Platinum and Passive House certifications.
As if those two goals weren't enough for this group, Wolfrum said they're also aiming for net-zero energy usage on the home.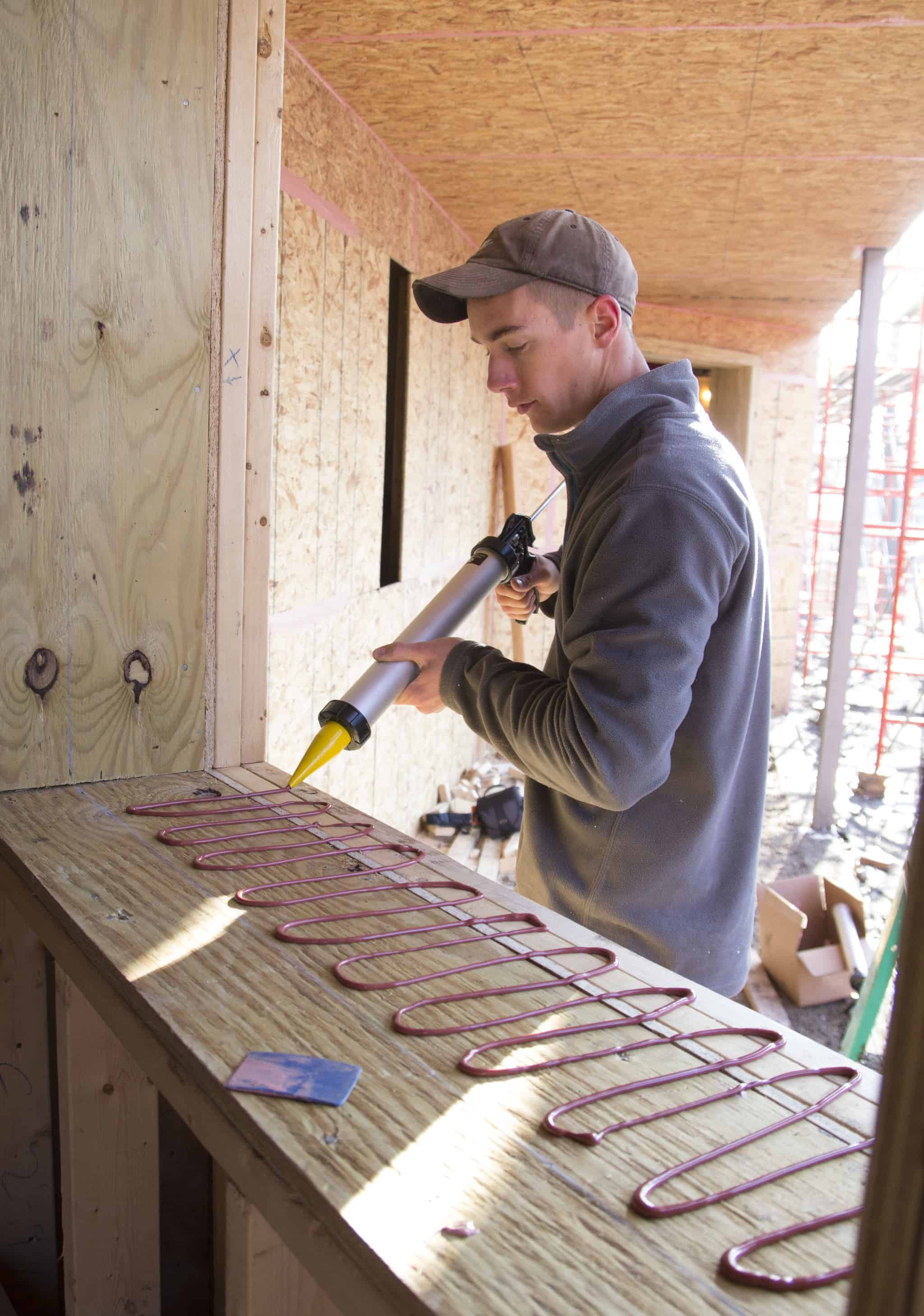 Maximizing the "R"
While net-zero energy consumption is a lofty aspiration, it's not an outlandish one. Just look at Seattle's Bullitt Center (another R-Guard project), which just became a certified Living Building and collects more energy than it consumes.
R-Guard air and water barriers have long been used on the world's highest-achieving structures. And through a recent donation, PROSOCO is now proud to have our R-Guard products on Studio 804's most recent work.
The students used PROSOCO's R-Guard Joint & Seam Filler over the roof and wall sheathing, FastFlash around the windows and doors (Wolfrum says it's probably the deepest application of it we've seen on the 18-inch-thick walls), Cat 5 over the exterior walls and AirDam around the windows.
As soon as he started working with the R-Guard products, Wolfrum noticed their durability.
"That's probably the most important thing," he said. "This isn't something like a Tyvek or just a paper that's going to fall off."
He also appreciated the color-coded components of the system.
"You can really tell when it's been applied properly," Wolfrum said. "We like to think we're very capable, but we haven't experienced a lot of these things before, so a system that you can see the pink is covering all the seams, and you get red continuously through your windows. Just making sure the layers are all there.
"It's a lot simpler, it's easy to apply, quick, straightforward. Those things really matter to us in terms of our timeline."
R-Guard products also helped the project go far beyond Passive House levels of air changes per hour on the building envelope. An initial blower door test produced a result of 0.29 ACH50 – which beats the Passive House level of 0.6 ACH50 by more than half.
The R-value of the wall assembly (which Rockhill predicted would net out around 50 to 55) ended up at 62, blowing away a typical R-value result of 19 to 30 in conventional construction.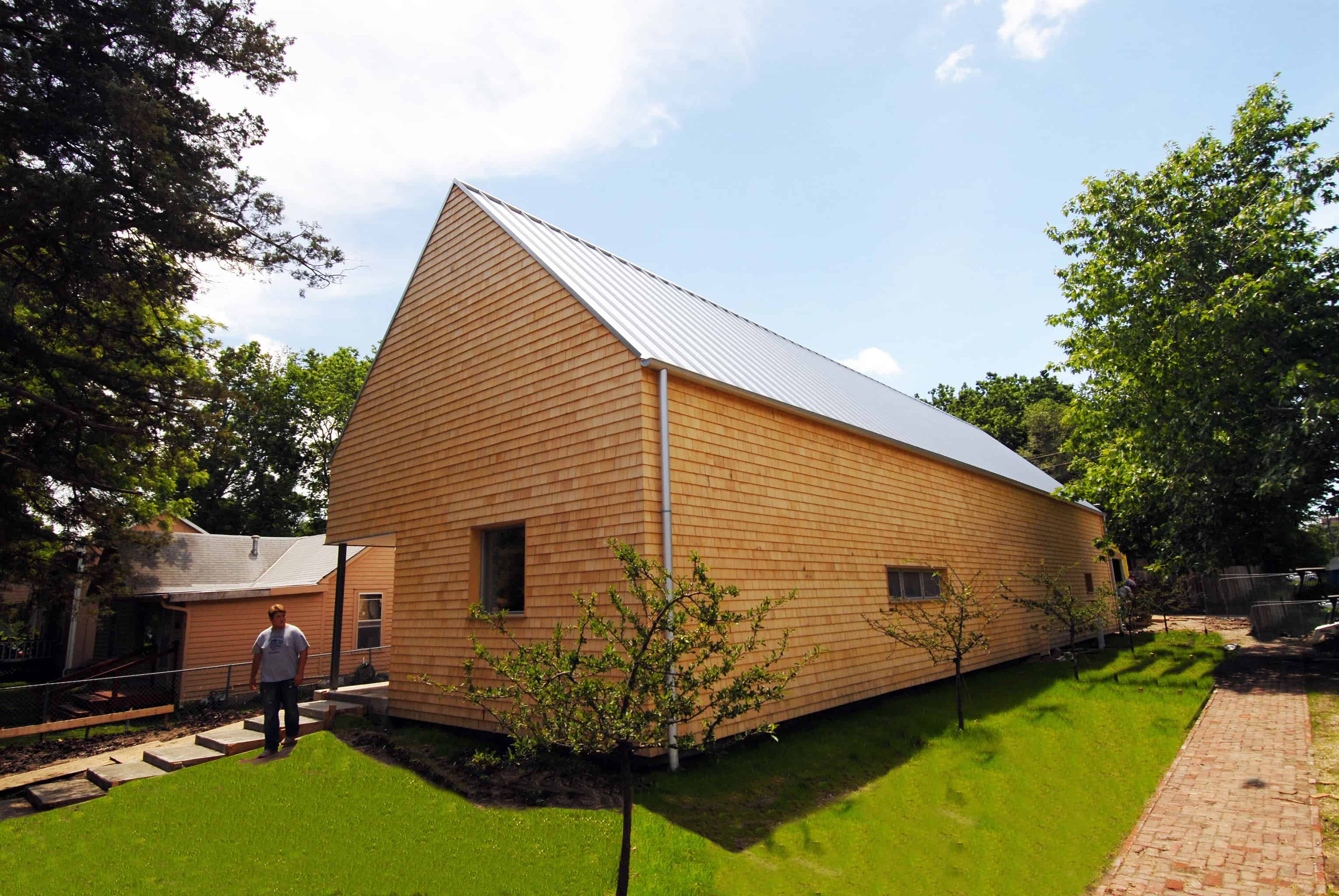 The next frontier
After the project wrapped up this summer, Wolfrum and 15 other boot camp survivors headed off on the start of their respective career paths. For Wolfrum, that means working on a residential construction job in Alaska. Ideally, he'd like to specialize as a Passive House consultant or a sustainability coordinator.
Wherever he ultimately lands, Wolfrum recognizes that he'll have a leg up over his peers seeking the best jobs in the industry.
"(Studio 804) puts you above anyone who's only had the studio experience," he said. Before starting boot camp, "half of us didn't know how you would detail a window opening or what spacing a stud is at in a house. That is I think the main advantage of having that on-site experience. Seeing how things go together and being a part of it.
"You could be qualified to go work construction, or oversee construction, or work in an architecture office. There's a lot of different options from this that it opens you up to."