In late 2021, we had the pleasure of welcoming Dan Kamys, editorial director at the Mason Contractors Association of America, to our headquarters in Lawrence, Kan.
The visit kicked off a new year of PROSOCO's support of the MCAA as a sponsored partner to help the MCAA continue to deliver important education, training and other resources to its mason contractor members.
Jake Boyer, head of PROSOCO's Clean & Protect Group of masonry cleaners and water repellent/protective treatments, took Dan through the first-floor hallways of PROSOCO, where photos from the company's founding years and photos of its founder itself line the walls.
They stopped at a photo of PROSOCO's founder (and Jake's great-grandfather) AJ Boyer, who started what is today known as one of the leading businesses in masonry cleaning and protection, but PROSOCO didn't begin in 1939 with that intent.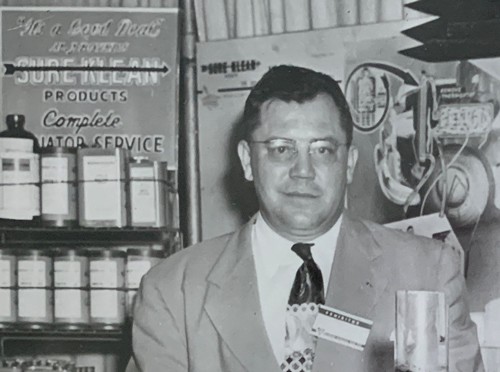 "AJ Boyer was a used car salesman," Jake said. "It's kind of an interesting story. Back in the late 1930s, AJ was approached by a gentleman who showed up on his used car lot without enough money to buy a used car. But he did have one unique thing at least, or so he claimed. He had a patented formulation that would actually dissolve those lime deposits, the build-up in the radiators. So in exchange for that patent, my great-grandfather traded him a used vehicle. It turns out that patent was bogus, but the formulation, with a couple of minor tweaks, had merit to it. It worked very well. So he was able to develop that into a product that at the time we called Sure Klean No. 1 Radiator Block Cleaner."
"So he was working away, selling a couple quarts. A couple gallons was maybe a pretty big order. Well one day he got an order for four drums worth of material. They arrived on the job site where the masonry wall was being constructed. He's looking around for all the used cars, saying what the hell are you guys using this for? And the guy said, 'Well, we were cleaning this side-mount radiator on a ready-mix truck, and we noticed that it was eating away the cured cement dust that had cured on the fins, the radiator. So we said well if it's working for that, why don't we rinse the drum out with it?' So they rinsed the drum out and it cleaned out the inside of the drum. From there, they said, 'Well hell, let's just wash the wall with it too.' So they wash the wall with it. And that's kind of how we got our start in masonry cleaning."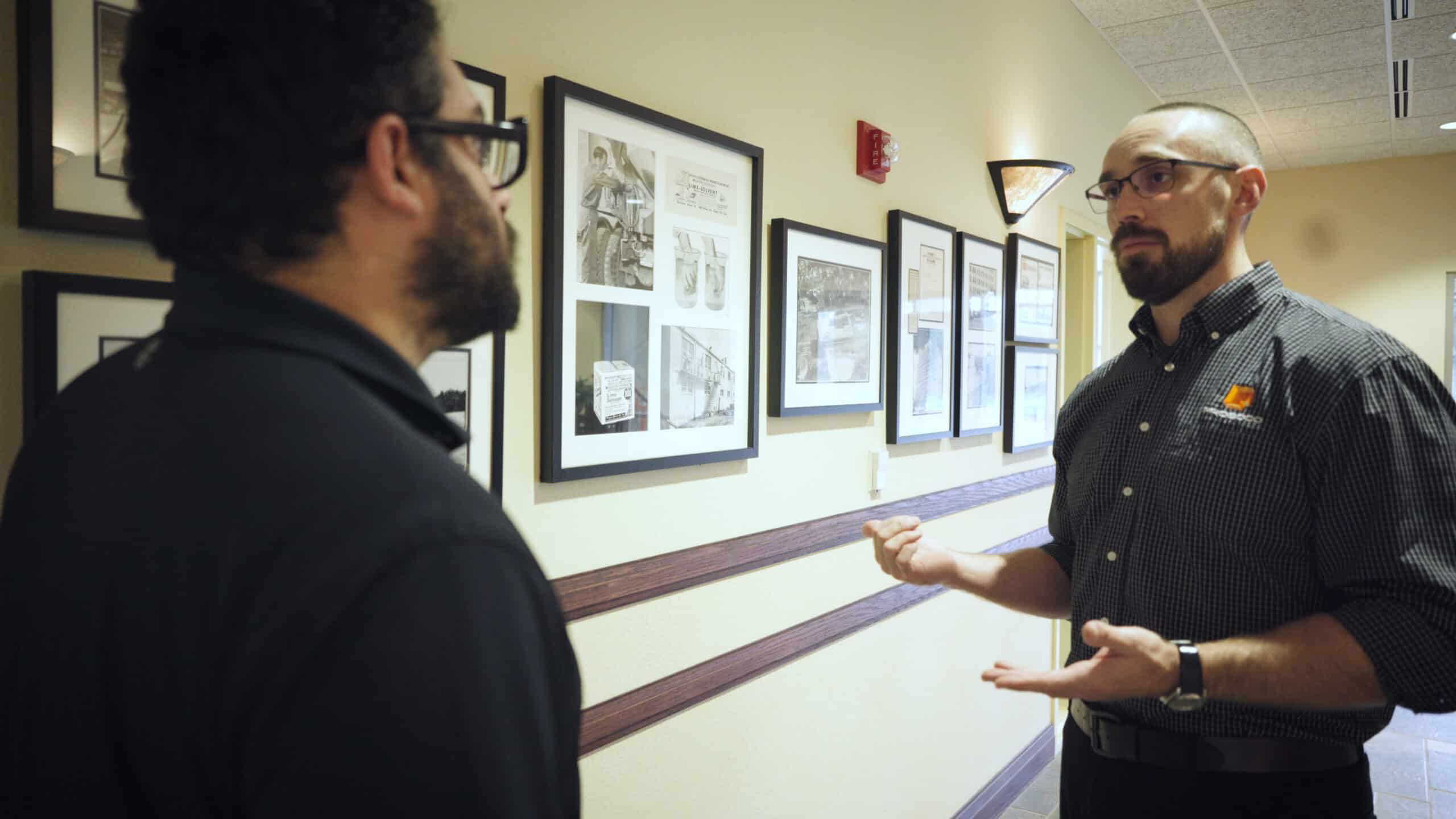 "At the time, muriatic acid was the only option for cleaning masonry. This buffered solution that was intended to clean radiators actually had some additional detergents and buffering agents in that material that allowed it to effectively clean those more sensitive bricks without any of the damage caused by muriatic acid. He took that idea and ran with it and started developing more products specific for masonry cleaning. So obviously, we've adapted quite a bit over the years. We've been in business for going on 82 ½ years. We're fourth-generation still proudly family-owned. One thing that's unique about us is that despite the fact that there's been one family that's owned it, every family in this building is considered family to us. I'd like to take you around and introduce you to some of those people."
Dan and Jake then walked down the hallway to PROSOCO's laboratory, where they met with Tom Stalnaker, Director of Research and Development.
According to Tom, "Our labs here at PROSOCO not only handle all research and development of new products and improvements to existing products, we handle all quality control of incoming raw materials and our finished products, as well as specific project testing. What I mean by that is, we have a brick from a 1,000-year-old castle in Ireland. We get core samples from the Capitol building in Washington, D.C. We even have a window from the Empire State Building that they asked us to work on here."
Tom pointed out some of the equipment PROSOCO houses for its variety of testing protocols and methods, including a spectrophotometer, gloss meters, and stereo microscopes that allow lab staff to look at masonry substrates up close.
"We have our Instron so we can measure the tensile strength and elongation of our coatings," Tom said. "We try to use all the standardized testing through ASTM and other agencies, but sometimes you kind of have to make up your own test to match field conditions. So we do a little bit of all that here."
Dan commented that it seemed like a robust laboratory operations for a manufacturer of PROSOCO's size.  
"There's an old saying here that if you're not testing, you're guessing," said Tom. "We take that to heart. We try to test everything we can possibly test. Here, there's nine of us scientists in the lab. We have our lab facilities right here in our manufacturing facilities so that we can monitor not only production, but we can monitor the finished products as well and all the testing that goes into that. It is very uncommon to have this much investment in the laboratories."
Next, the group moved into another room within the lab where PROSOCO conducts its research and development. One chemist was working on Rilem tube testing that monitors water absorption after substrates have been tested with penetrating water repellents.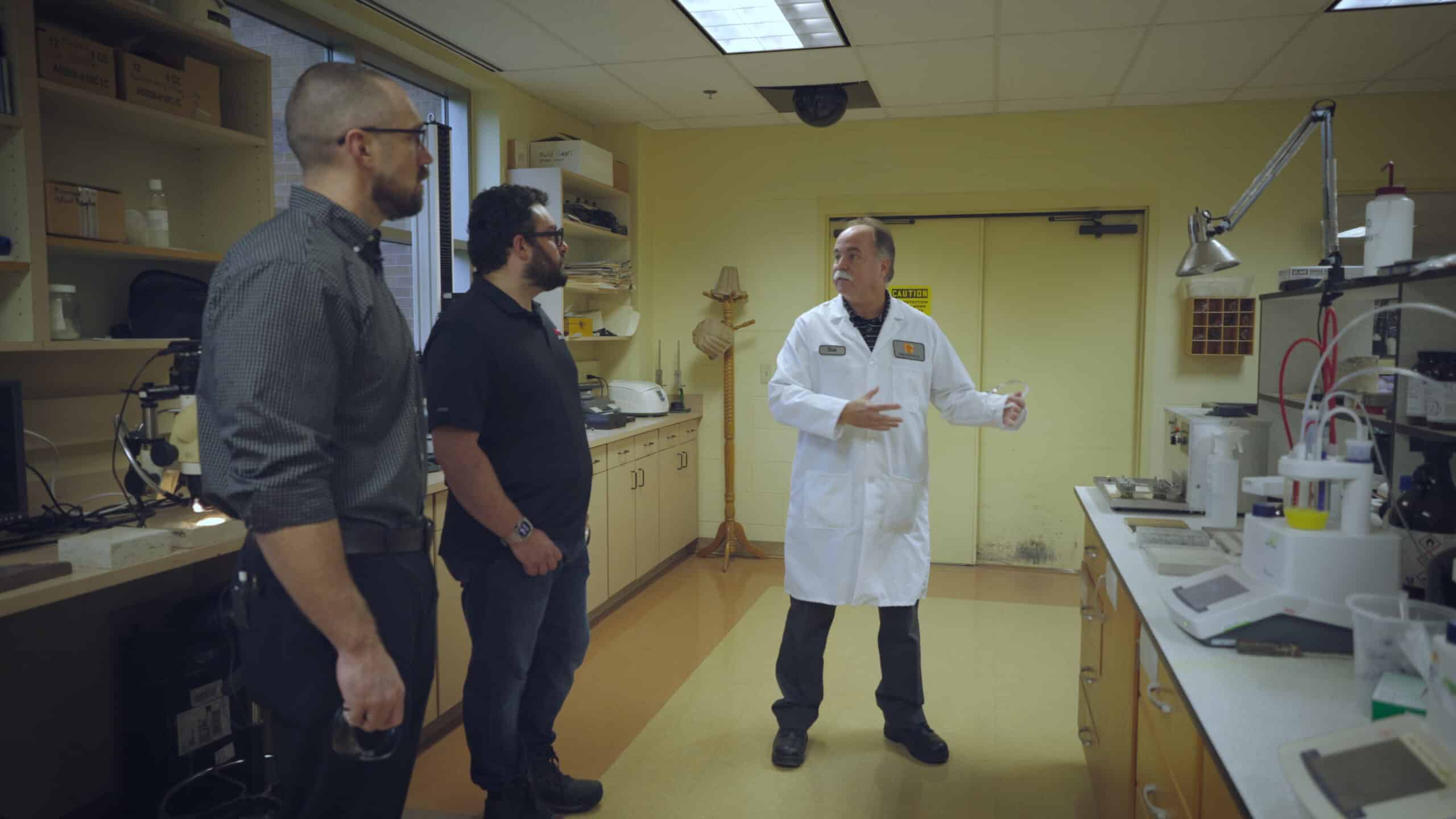 There were multiple chambers that accelerate weathering on substrates and external racks as well where PROSOCO lab staff can watch the effects of weather on substrates over time and how they hold up under all sorts of conditions. Why such an obsession with testing and real-world conditions?
"We have hundreds of products and thousands of formulas that we've put together because one product doesn't fit all solutions," Tom explained. "Masonry product building materials are constantly changing. Field conditions are constantly changing. So we make our products so they specifically work for you and your customers on their types of building materials in the field."
Jake continued: "In the real world, our contractors are up against different things every day. By developing so many different formulations, we can make sure that we've got a solution for as many of those circumstances as we've ever encountered. And if we haven't yet encountered it, we're happy to make a formulation specifically for it to address those needs."
The next stop on the tour of PROSOCO was a space dedicated to the company's newest division, a line of masonry anchors it acquired in 2017.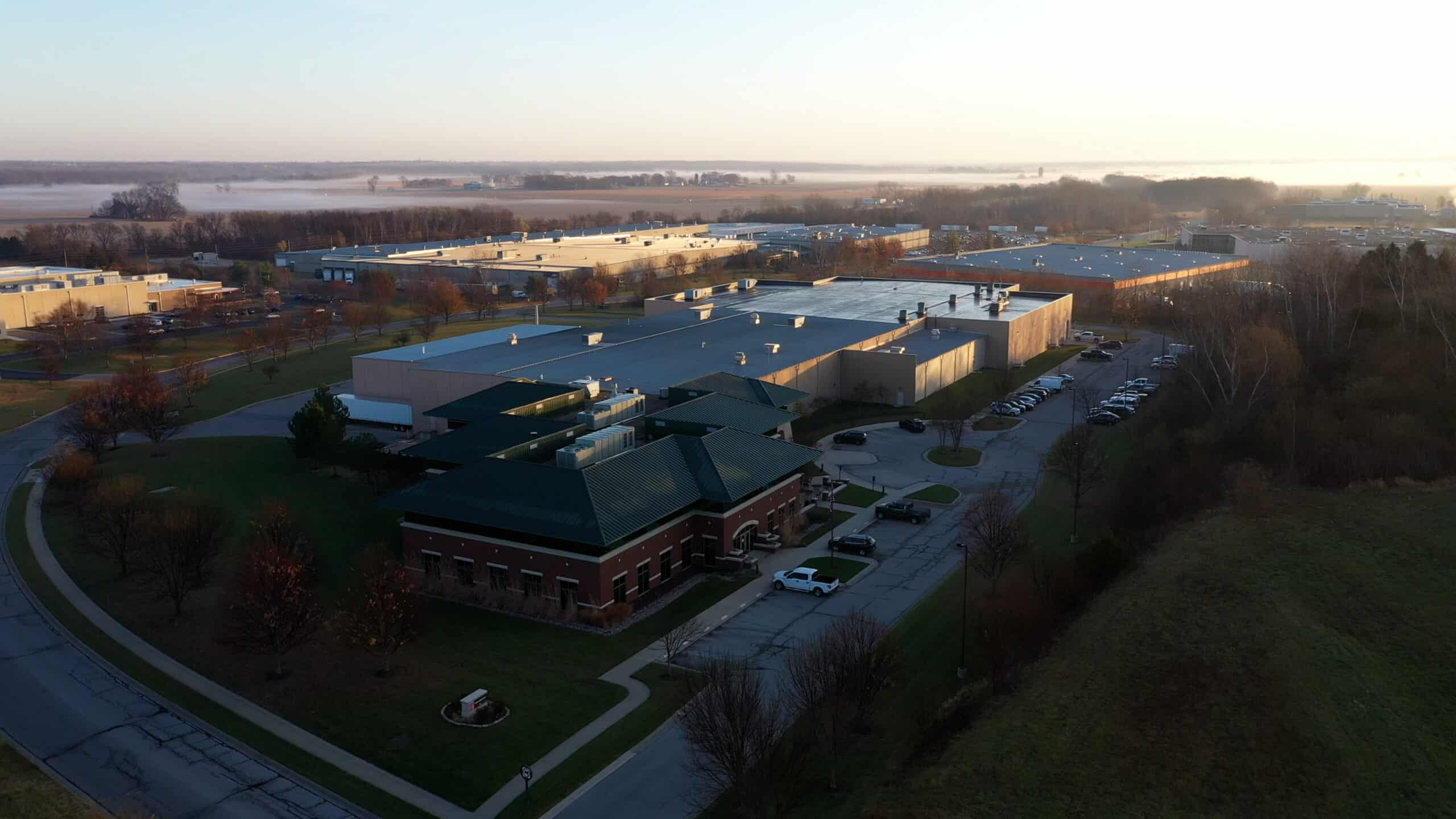 "This is where we're producing all of our helical anchors, our Stitch-Tie bar that will allow you to repair masonry walls that have failed otherwise," Jake said. "We've got a number of different types of anchors for masonry, both new construction ties, as well as restoration or retrofit ties to re-anchor façade materials back to that backup wall. This is by far our newest division of the company. We've been around for 82 years and this particular division has been with us for about three years now, but it's growing rapidly and we're always looking to provide additional solutions to the masonry industry, so this was kind of the next natural progression for us."
"We've been around for 82 years and we hope to be around for that many more, at least," Jake added. "It's kudos to organizations like the MCAA for helping to keep these segments of the business alive and thriving, and we look forward to working with you."