Smart strategies for material reductions led the project team of the City Hall East building in Southern California to choose finished concrete floors.
Adding onto an existing, municipal building registered as a historic landmark didn't intimidate the project team of the Santa Monica City Hall East (formerly called the City Services Building) in California. In fact, it ended up being just a slight hurdle that motivated the team to go even further in their achievements.
The 50,000-square-foot addition is also registered with the International Living Future Institute's (ILFI) Living Building Challenge (LBC) standard, which requires net-zero water and energy, stringent material selection and design to last 100+ years.
Once the building completes its 1-year post-occupancy performance verification period and completes certification with the ILFI, it will be the first municipal Living Building Challenge building in the U.S.
That's not its only first. The three-story building is also the first project in California to collect rainwater and treat it to potable standards and the first public facility in LA County to integrate composting toilets.
Oh, they also came in under budget and project the building will be cash-positive in 16 years without raising taxes.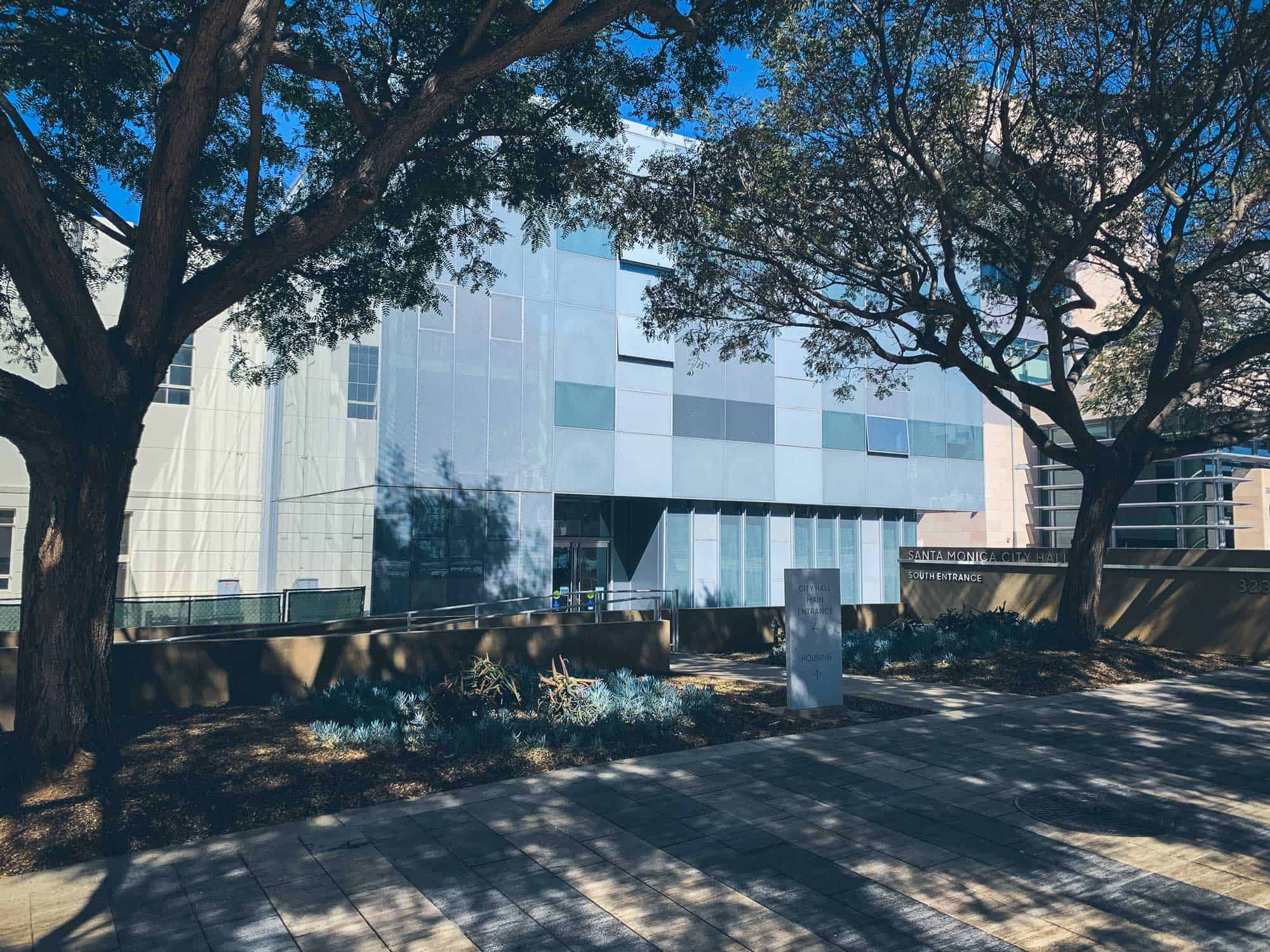 The general contractor leading the design-build contract on the job was Hathaway Dinwiddie, a firm that's no stranger to green building standards. Around 95% of its projects meet either LEED or a similar sustainability-oriented standard, according to Jessie Buckmaster, LEED AP, BD+C, Sustainability Manager for Hathaway Dinwiddie.
"We've been lucky to have very progressive clients, and the city of Santa Monica is the one who was driving LBC on this," she said. "They are the ones who pushed for it, and we figured out how to make it happen."
For the City of Santa Monica, Living Building Challenge was the perfect fit for this project because it "aligns directly with long-range City Council commitments to carbon neutrality, water self-sufficiency and zero waste."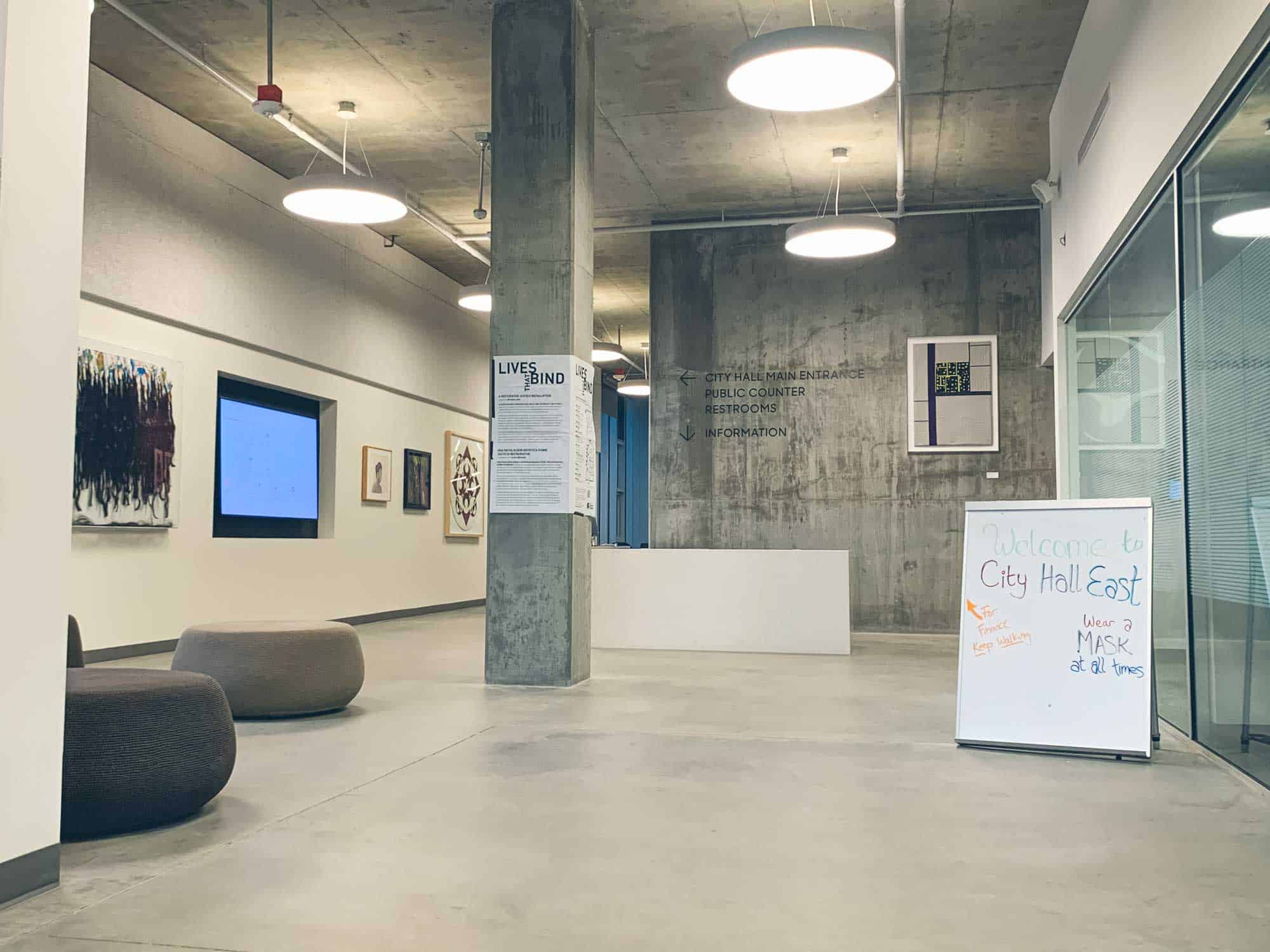 Vetting healthy materials
Though the City Services Building officially opened in April 2020, Buckmaster's job of vetting all materials on the building began five years prior.
This process was lessened slightly because the architect on the building, Frederick Fisher & Partners, and engineering firm BuroHappold, designed a plan to "dematerialize" -- reducing the total number of materials needed.
"There were a lot of exposed finishes, and it's a concrete building, so we had sealed concrete floors and concrete shear walls that reduced the amount of drywall and other finishes," Buckmaster said.
Still, about 800 materials remained for Buckmaster to verify would meet various requirements of the LBC standard. That included confirmation that each material did not contain any ingredients on the ILFI's Red List, a catalog of chemicals that have been designated as "harmful to living creatures, including humans, or the environment."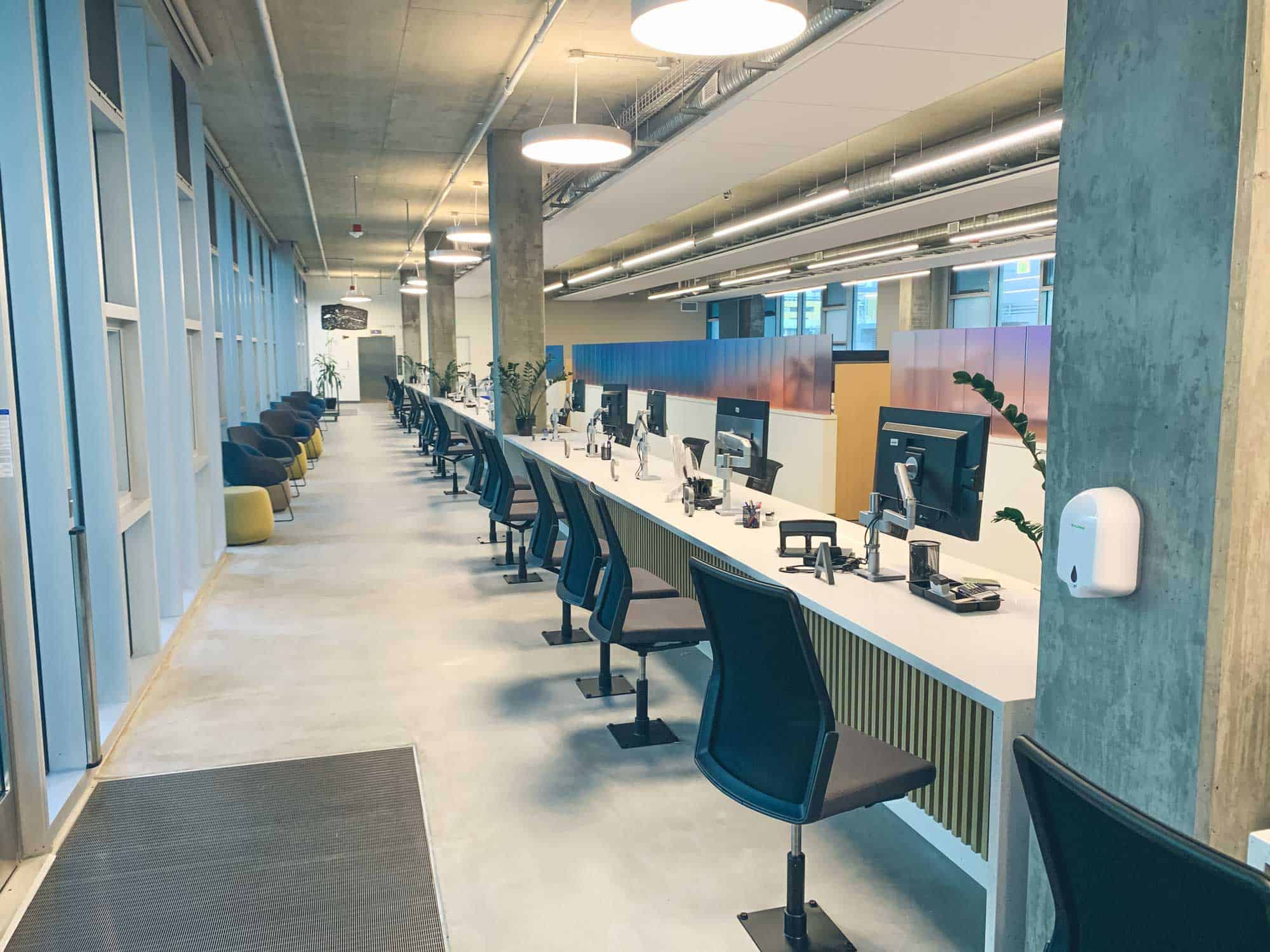 Today, databases of LBC-approved building products are more comprehensive than in 2015, meaning there was no one clear path for Buckmaster to find documentation of each of the 800 materials. In fact, the sheer amount of time this portion of the job took was the biggest challenge of the entire project for Buckmaster.
"When we started in 2015, there weren't a lot of resources available," she said. "The Declare database was very small, just a couple hundred products at that time. Mindful Materials was just getting started as a shared Google sheet."
"We started with the resources we knew were there and tried to pick as many Declare products as possible. But then moving forward, we really just made a list of typical materials that would be on any construction project."
As a public project, the spec couldn't be proprietary, meaning she had to list three manufacturers for each building material or else use a performance spec with no manufacturers listed.
"I will say what we discovered was most of the products we would typically use on any construction project were compliant," she said. "It just took the time to figure that out. So many manufacturers have no idea what's in their product or if they had a third-party certificate. We started with Safety Data Sheets."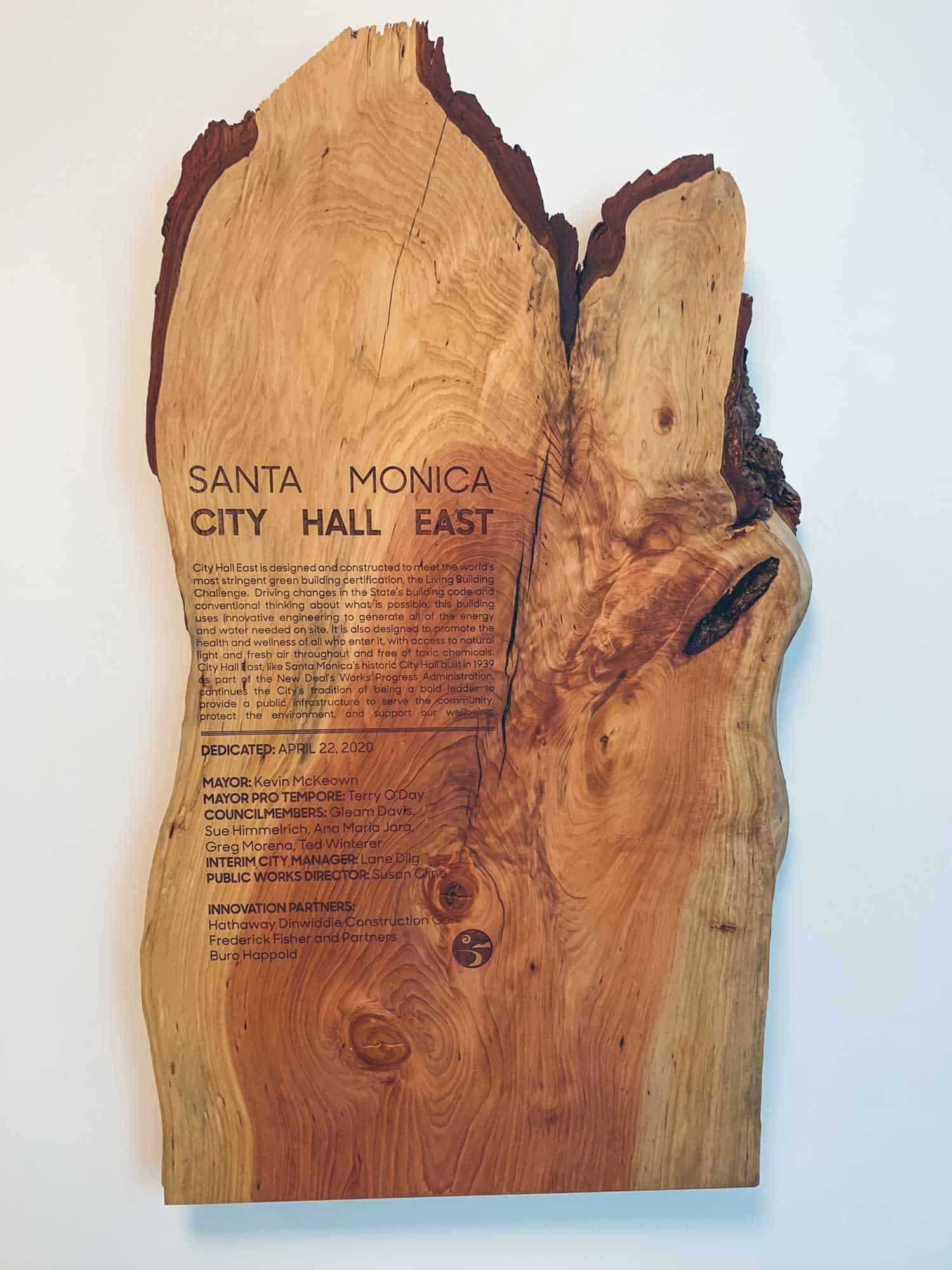 Filling in the missing pieces of the spec puzzle meant a lot of "just tracking down manufacturers, finding the right person to talk to and figuring out how to look at alternates."
Along the way, she uncovered a couple of resources she found particularly helpful.
One was the access to dialogue with other project teams that previously completed LBC projects through the ILFI. The second is a new product-vetting, subscription-based resource called Red2Green from Integrated Eco Strategy, a Massachusetts-based consulting firm. Buckmaster said while this cloud-based tool is not comprehensive, it cut down on a lot of work. "It includes exceptions, and it automates letters from manufacturers. It didn't start until well after we were in construction though. If we did another LBC project, I would probably try to use that."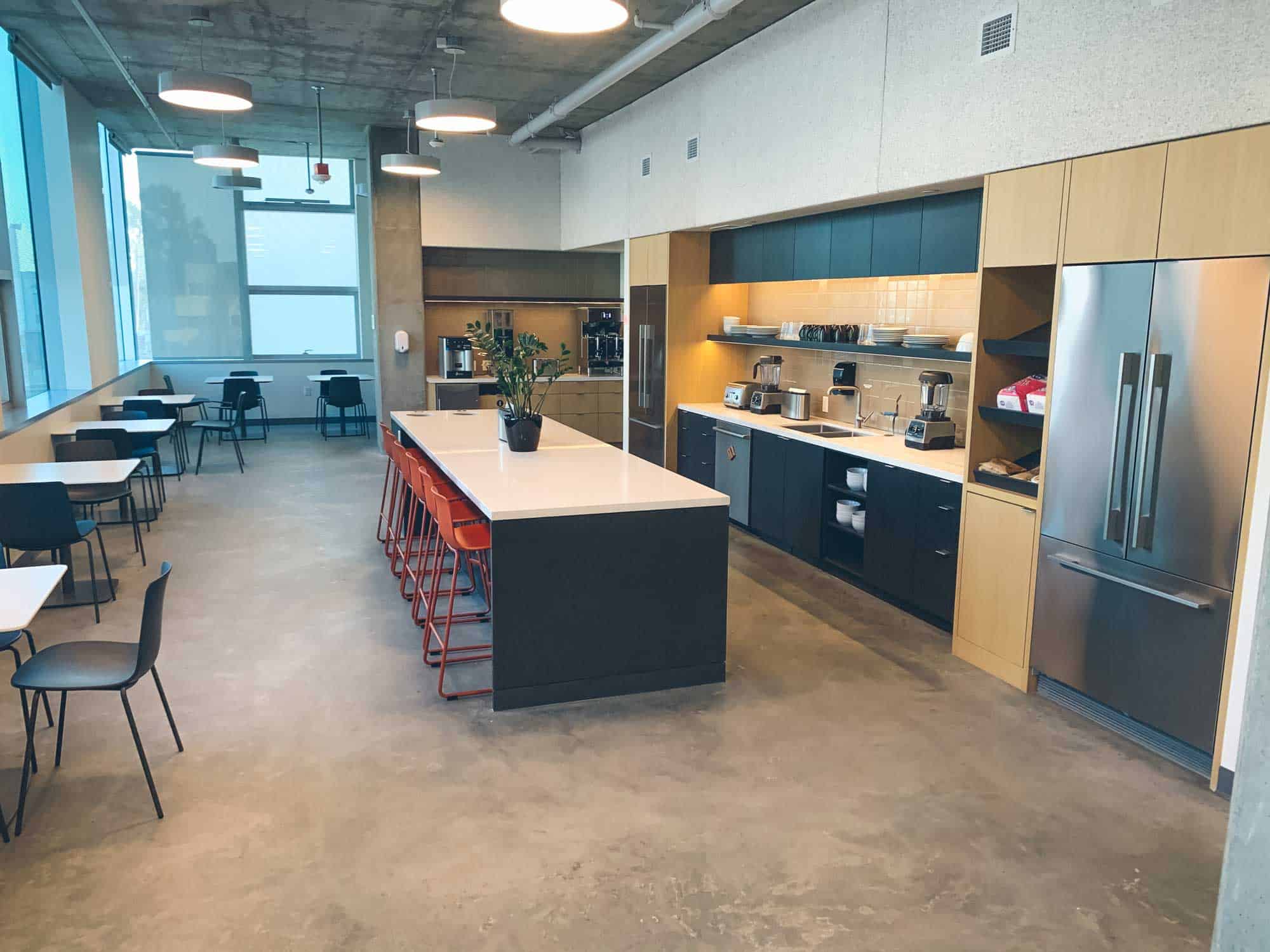 Buckmaster also managed the training of all subs on the project about the requirements of LBC. She prepared 45 individual presentations for sub-contractors tailored to their scope on the building, the documentation they would need to provide, and the need to acquire approvals before any installations could begin.
Directed by Declare
Before the Declare database sent Buckmaster in PROSOCO's direction for its LBC-compliant concrete floor densifier and guard, she was well-versed with its R-Guard line of air and water barriers because of the now-famous Bullitt Center story circulating in Buckmaster's sustainability circles.
Not only was she the facilitator for the ILFI's LA chapter collaborative in 2016 and later in Northern California, she's also attended and spoken at multiple ILFI conferences. That's where she originally heard the story – the one where PROSOCO was asked if it could remove phthalates from its Cat 5 system of fluid-applied air and water barriers while retaining its performance, and PROSOCO said, "We'll give it a try." The company reformulated its entire line of fluid-applied silyl-terminated polyether (STPE) air barriers, giving them the green light for use on the world's greenest commercial building, Seattle's Bullitt Center.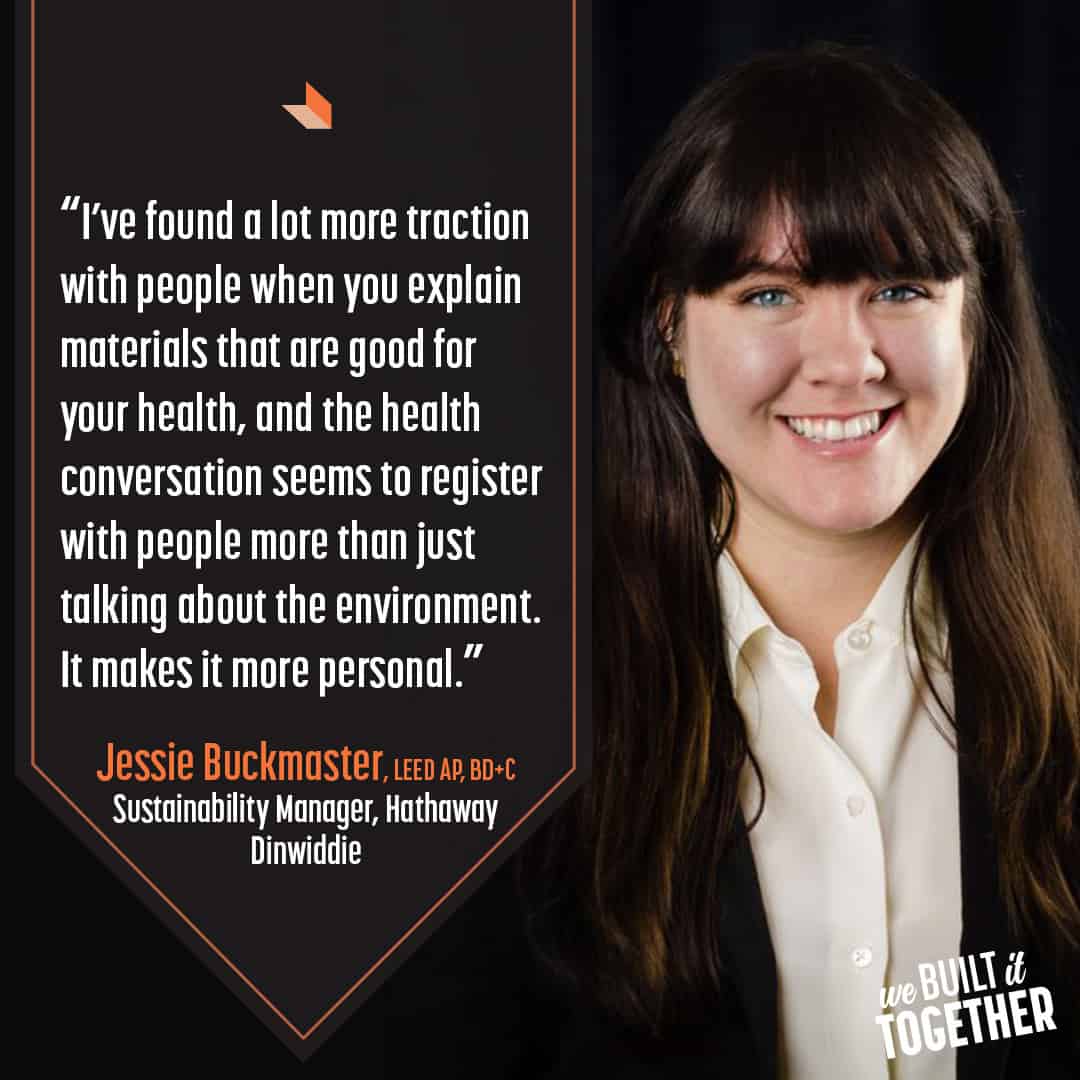 "The case study about the Bullitt Center, that's one of my favorite stories to tell," Buckmaster said. "That just because a manufacturer has a certain chemical in their product, that doesn't mean they can't take it out."
She wasn't as familiar with the company's Consolideck line of concrete flooring products, including LS, a hardener/densifier, and PolishGuard, a protective sealer.
But as she quickly learned, both LS and PolishGuard are not only LBC-conformant, but also are LEEDv4-ready and certified with SCS Indoor Advantage Gold for indoor air quality standards.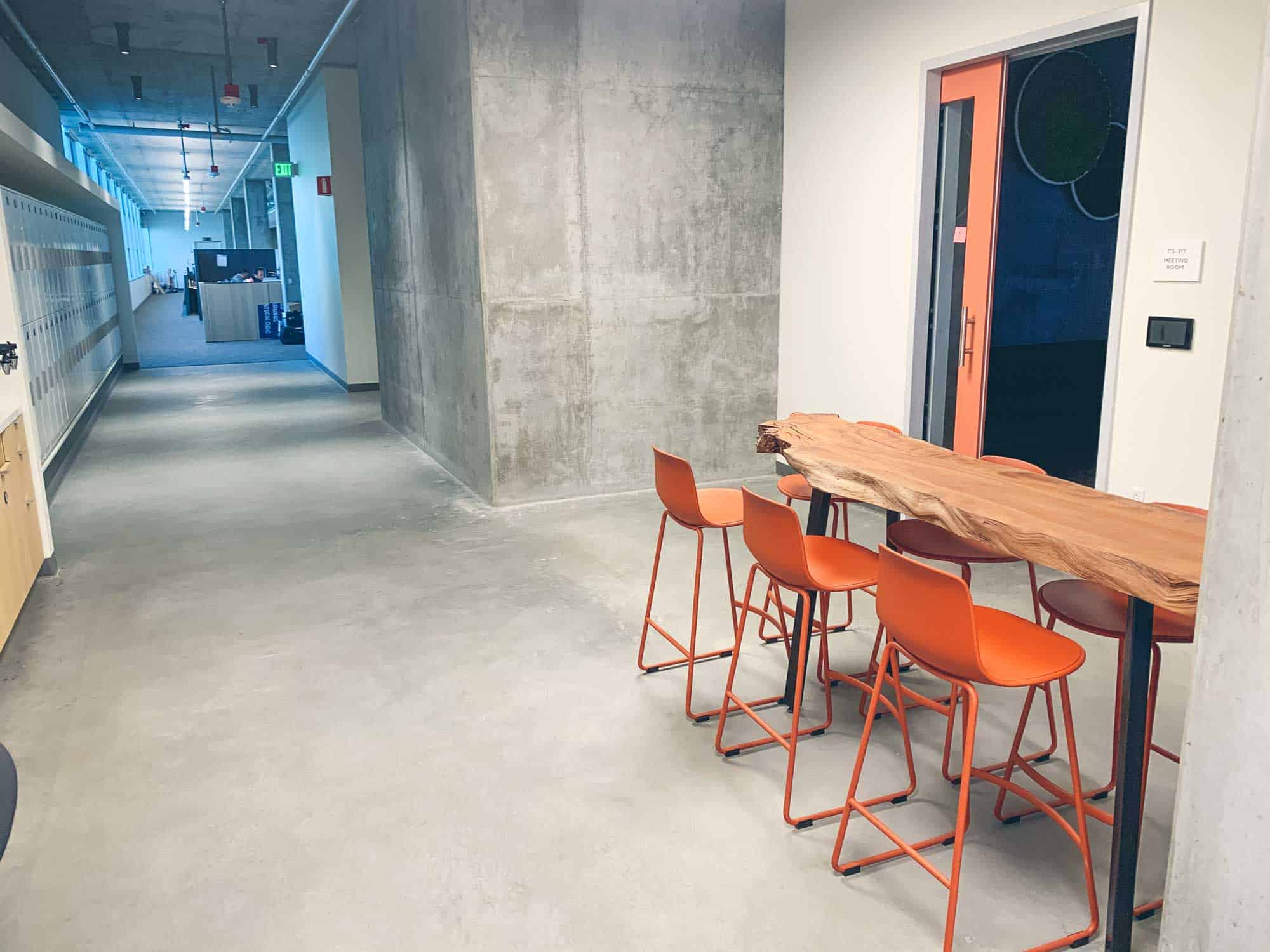 The products qualified for the desired performance and health standards on the City Services Building and worked perfectly for the design aesthetic and long-term maintenance of its floors.
"This is a public building that's expecting a lot of traffic, and intended to be there a long time," Buckmaster said. "The city wanted everything to be very low-maintenance, so we decided on sealed concrete for pretty much all the common areas on the first floor, hallways, the permit counter area. It was part of the maintenance and the aesthetic decision to have a finished concrete floor."
On the building's 26,500 square feet of finished concrete, including the public-access first floor, Buckmaster's team found the install went well, and the "application, dry time and appearance met all expectations."
Making the numbers work
One thing Buckmaster wishes more project teams would realize when considering a goal like LBC is that it can be financially efficient not in spite of green standards, but in many cases, because of green standards.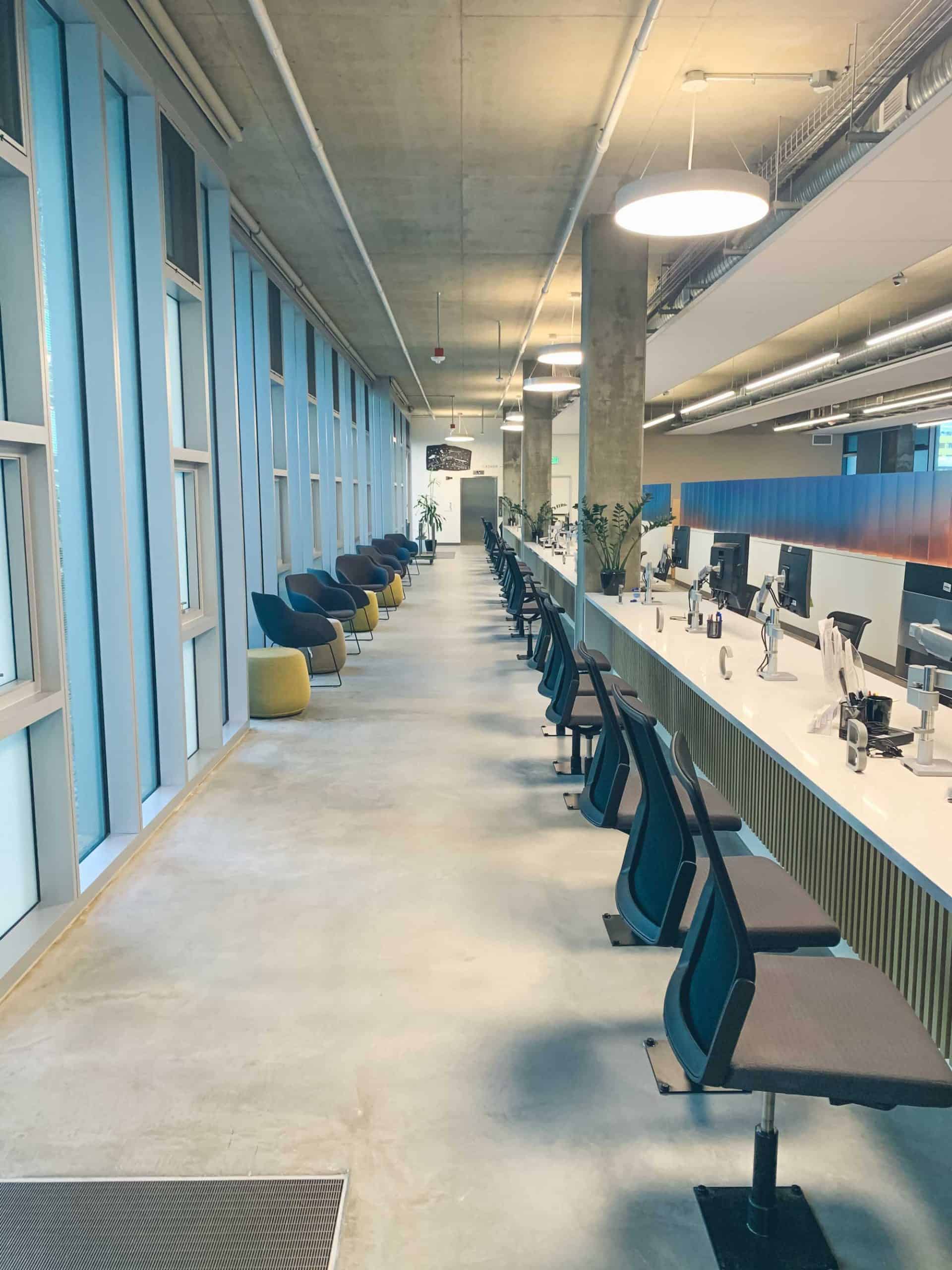 "I think a lot of people have assumptions that are not true, that it's too expensive, that they don't have enough roof space for solar panels," she said. "If you plan it properly, it doesn't need to cost more. This building is net-positive energy and water, and Red List-compliant, and will pay for itself in only 16 years due to the financing structure."
"If you have passive strategies, where you have natural ventilation, good insulation for efficiency and daylight to cut down on overhead lights, your equipment can be a lot smaller for heating and cooling, then you need less solar and roof space. And then the radiant piping in our slabs cuts down on AC and prevents heat gains, and we need fewer light fixtures thanks to the curtainwall system."
Understanding this concept often requires project leads to take a step back and look at the big picture and long-term lifecycle of a building, instead of only factoring upfront costs.
This isn't the easiest argument to make, depending on who you're talking to.
"That conversation is difficult with developers who are just trying to flip a building," Buckmaster said. "It goes a lot better with owners who are going to own the building long-term. On a public project like this, it made more sense financially and was responsible to the community to minimize utility bills."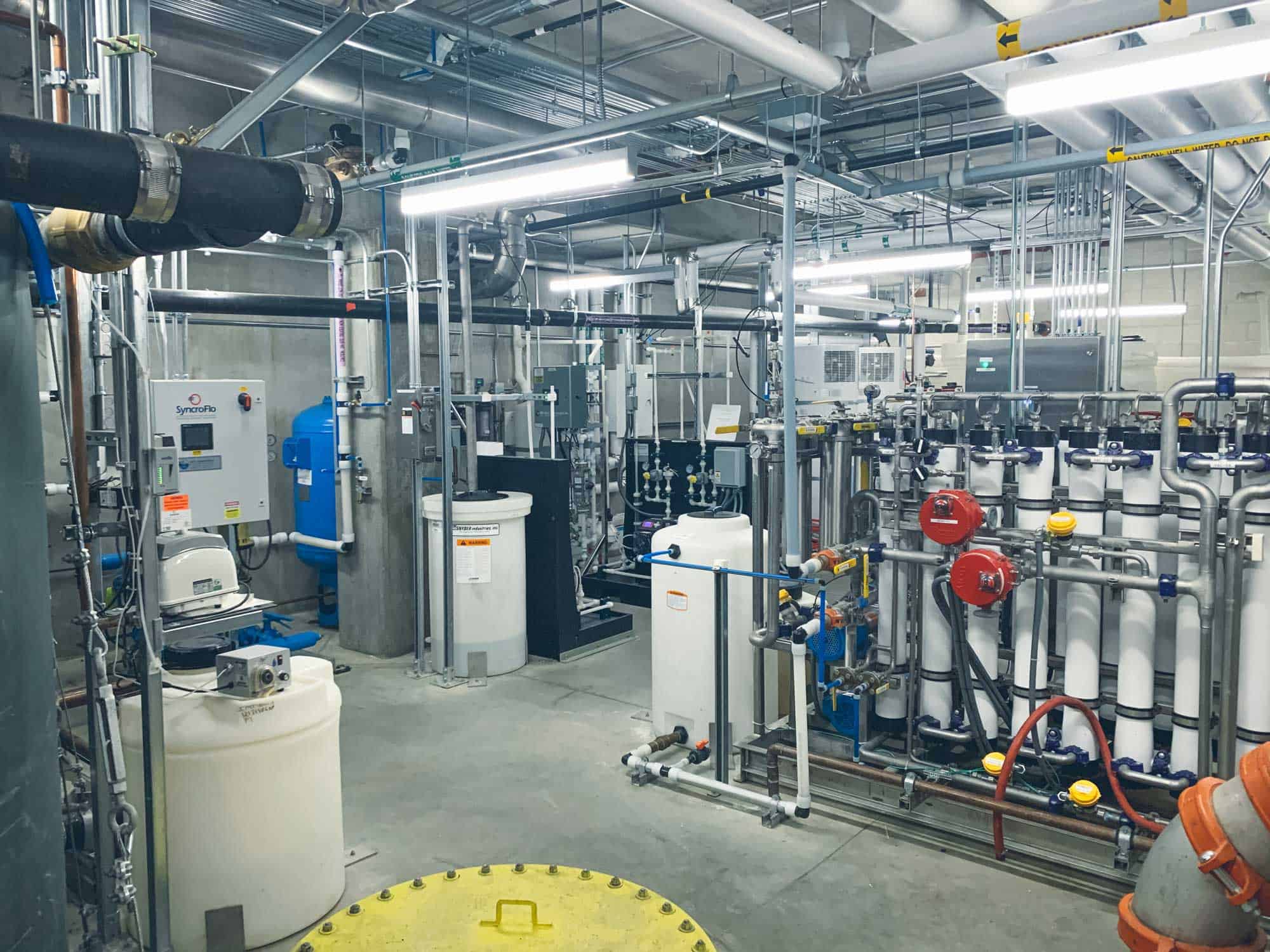 The additional space of the City Services Building allowed the city to consolidate facilities and staff into one location, another big financial boon for the project because the city was able to cut several private leases out of its expenses.
"The city outgrew City Hall a long time ago, and they were leasing space in privately owned buildings," Buckmaster said. "Real estate is crazy here, so the goal of this project is bringing everyone back under one roof in the building they own, so they're saving money on the leases."
According to the city of Santa Monica, "The project consolidates about 240 city staff currently housed in private leased space spread throughout downtown Santa Monica. Tenant leases in our thriving city are expensive and expected to continue increasing substantially over the next 30 years. The city will use lease savings to finance the cost of lease-revenue bonds that will be issued to pay for the CSB. In less than 30 years, the lease savings are projected to exceed the cost of financing construction. The building's useful life is 100 years or more, so the remaining 70-plus years will save taxpayer funds by avoiding the annual cost of private lease agreements and their accompanying utility bills."
The statement from the city of Santa Monica continued: "Should the CSB achieve LBC certification, it will demonstrate a paradigm shift from traditional buildings that consume huge resources to nontraditional buildings that produce resources and is beneficial to its urban surroundings. Santa Monica and the City Services Building address the realities of climate change and drought, and its success will demonstrate to the region and the world what is possible by regenerative building design and construction."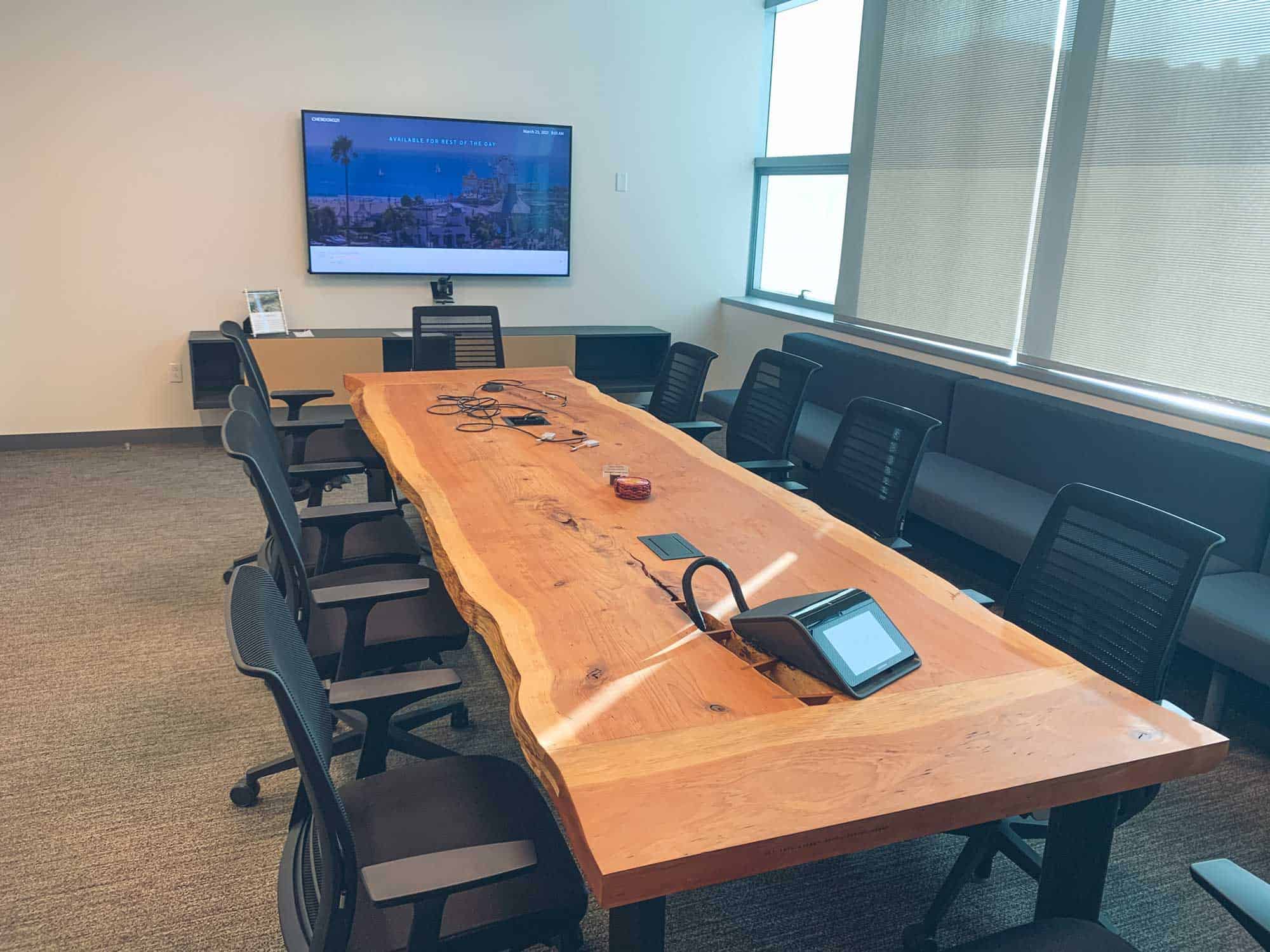 Precedent for future builds
The possibility demonstrated by the City Services Building is one that Buckmaster hopes motivates future project teams. Despite all the work she did to vet materials, she said the process is getting easier all the time as more projects achieve the goal and more resources become available. Plus, she believes that starting small instead of going for the whole LBC caboodle can still make a positive difference.
For example, Miller Hull, designer of the Bullitt Center, requires Red List-free materials for CSI divisions 3-10, and others Buckmaster has encountered might aim for Red List-free interior finishes.
"Try to just get as many healthy materials as possible," she said.
In fact, focusing on health can be a successful marketing campaign for LBC and other net-positive ventures.
"I've found a lot more traction with people when you explain materials that are good for your health, and the health conversation seems to register with people more than just talking about the environment," she said. "It makes it more personal."
Soon, Buckmaster hopes to work on more LBC projects, and ones that calculate embodied carbon. She's hopeful that in 10 years, buildings like the City Services Building won't be so exceptional.
"These individual strategies are going to be expected," she said. "I think it's becoming the norm."