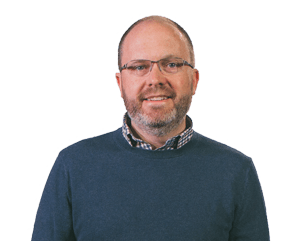 by Kevin Sigourney, Vice President of Brand Integrity
Imagine you're the owner of a multi-story building and you've just found out that the exterior brick façade is pulling away from your building, creating a major hazard for tenants and pedestrians. 
You anxiously await estimates from your general contractor as you hope for a relatively fast, effective, and affordable fix. Two bids come in at once. The first is for an entire reclad costing about $28 million.
Instead of a reclad, bid No. 2 calls for a technique to re-secure the exterior with masonry anchors installed on each panel of the building. It would cost you closer to $2.3 million, eliminate your need for landfill, and the job would be finished at least twice as fast as a reclad. 
Is there any question which way you would go?
This scenario is playing out on our masonry anchor projects in major U.S. cities all across the country. The cost savings I cited above are real, and they are saving millions for owners and HOAs while making entire project teams look good.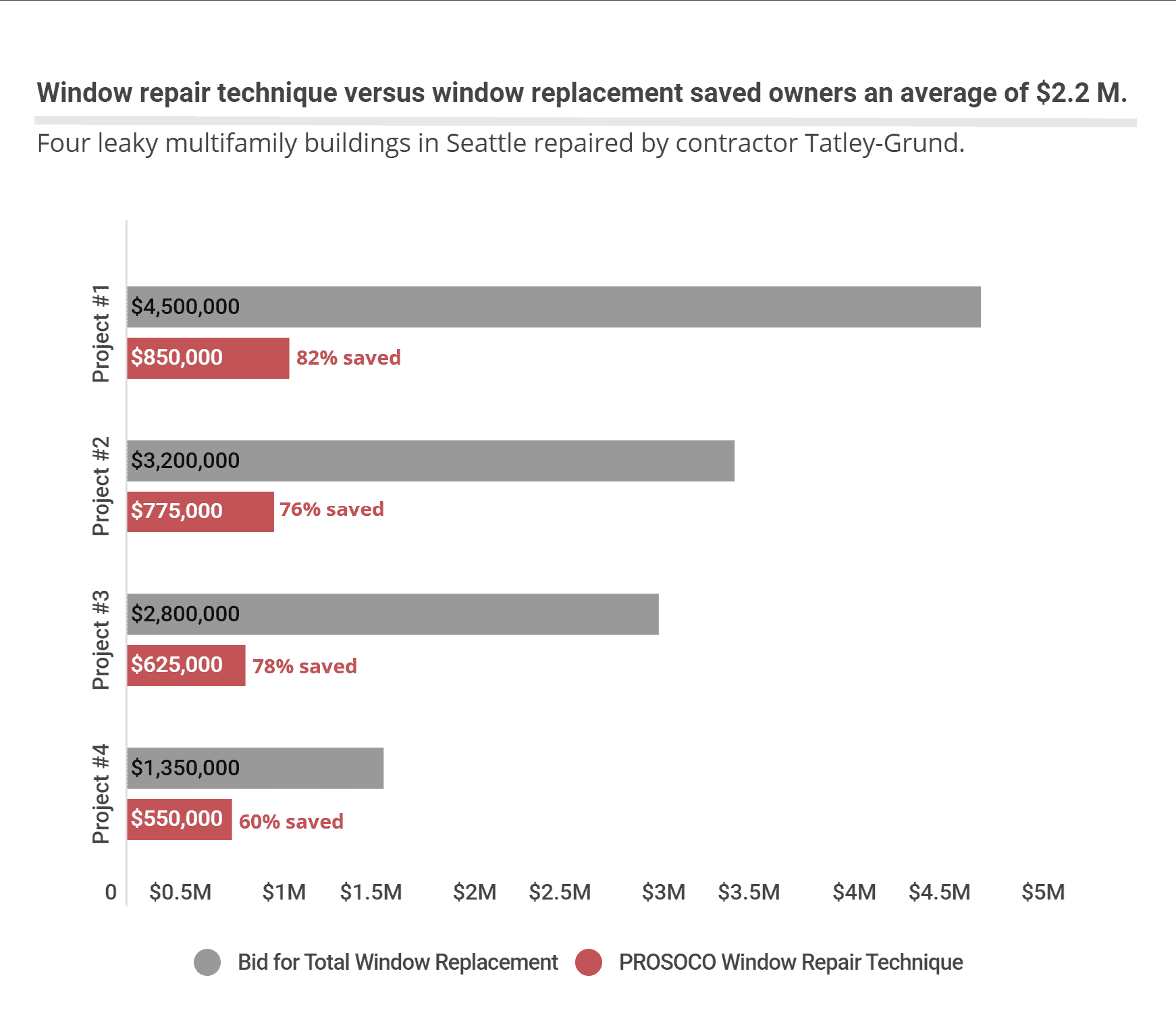 The savings that our anchors and other restoration products can provide to your project team go further than a more efficient installation and technique.
That's because we have in-house people whose expertise in their respective fields goes far beyond what is typical for a building materials manufacturer. In our anchoring systems group, for example, we have an in-house engineer, Steve Getz, who engineered nearly every variety of PROSOCO's anchoring products. Steve and other members of our anchoring group regularly visit job sites and provide personalized services that are precisely tailored to the needs and conditions of each individual building.
Steve recently visited a large project -- a multi-story commercial building in a major U.S. city. He assessed the structure carefully, returned home, and then got to work on a new anchoring solution that would complete the job more efficiently and save the contractor on the installed price of the product.
Steve's ingenuity reduced the installed price to the contractor from about $30 per anchor to $16 per anchor. On a multi-story building with 100,000 precast panels to secure, that savings adds up to millions.
"We build anchors for every project," said Brian Barnes, leader of our anchoring systems group and part of the team who regularly assesses buildings in person. "Every time we visit a project, our goal is to find a solution that's more efficient, whether it's on cost, or labor or landfill. It's frequently all three."
This isn't the only story to tell when it comes to our line of products for retrofit applications (which we expanded last year with masonry anchors). Retrofits, whether it's upgrading an existing structure and redefining its use, or correcting a problem, frequently require creative solutions, and that's what our people are especially good at.
That's what enabled us, in collaboration with repair contracting partner Tatley Grund in Seattle, to develop a unique window repair technique with our R-Guard air and water barriers that has saved millions for owners of multifamily buildings.
When these buildings started showing signs of leaky windows and water intrusion through walls, initial plans called for entire window replacements, and in some cases, wholesale stripping and recladding of the facades.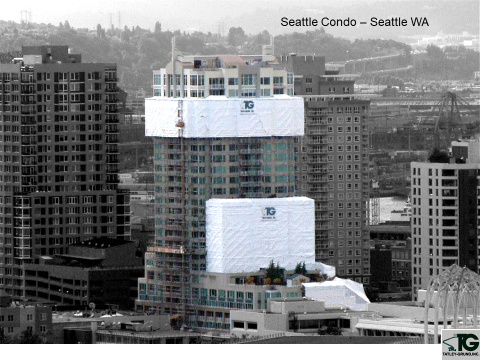 On four of these buildings, estimates for window replacements were $4.5 million, $3.2 million, $2.8 million, and $1.35 million.
The average savings to the building owners was just over $2.2 million.
Our window repair technique allowed the contractor to effectively stop the water intrusion issues while reducing the cost of repairs to $850,000 (18%), $775,000 (24%), $625,000 (22%) and $550,000 (40%) of the earlier respective estimates of total window replacements. The average savings to the building owners was just over $2.2 million. 
These retrofit repairs will not only improve the performance of the building envelope, but enhance the occupant health, indoor air quality and overall comfort while simultaneously meeting the building owner's energy performance expectations to provide a durable and sustainable structure. And with the current global pandemic, it is critical that we take measures that will improve the occupant health within our existing buildings.
The cost to install or repair is not the only way our products can put more money back into owners' pockets. In fact, the upfront costs can sometimes be deceiving. When it comes to concrete flooring, for instance, the savings might not be realized for 10 years post-installation. That's when you would need to completely scrap and replace an alternative floor topping like carpet or tile, instead of a finished concrete floor which would only require a concrete contractor to come in and do a quick regrind and polish.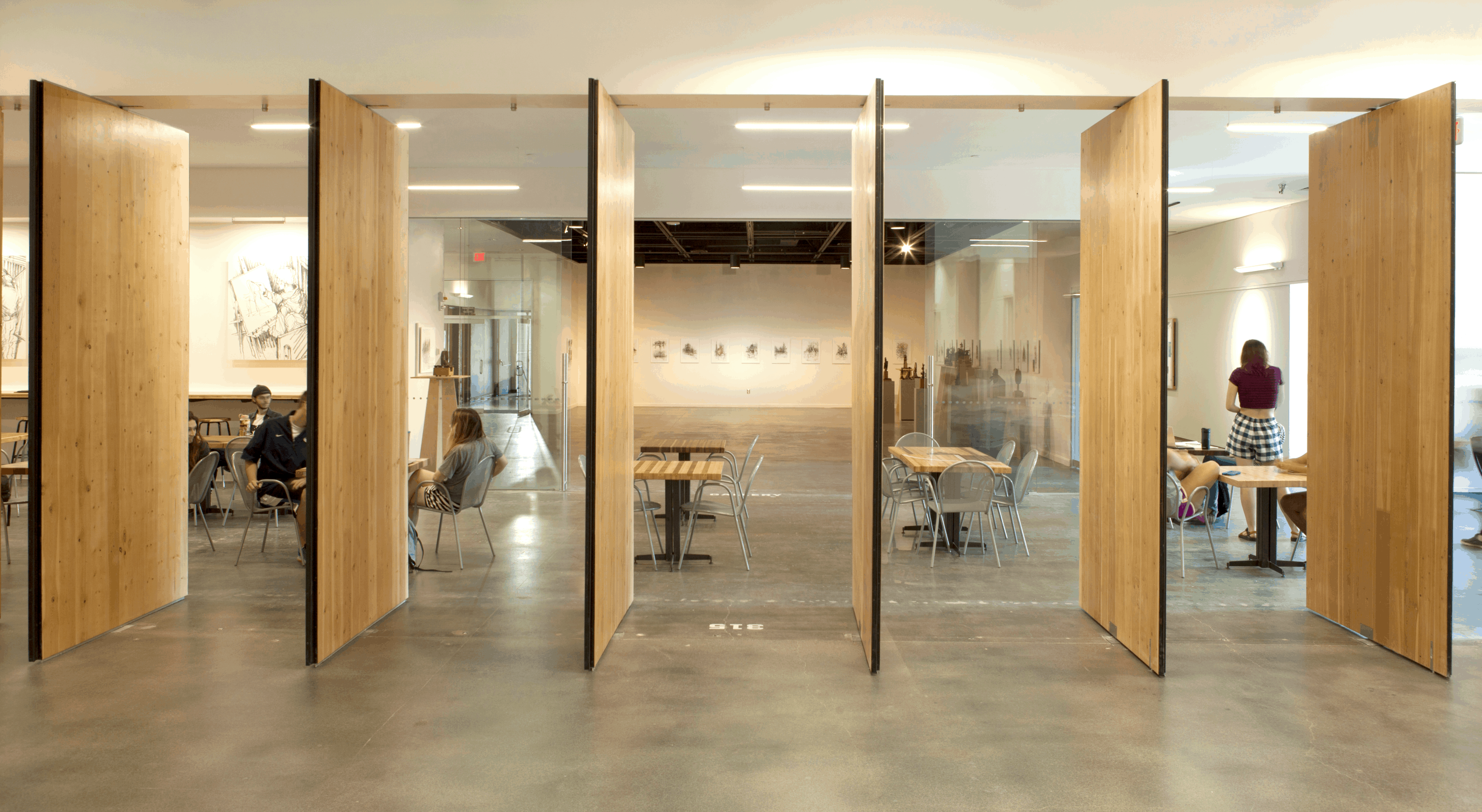 For this reason, we urge customers to consider the lifetime cost of their choices. Carpet and tile may be cheaper than a finished concrete floor initially, but long-term, a finished concrete floor means you're looking at savings in terms of dollars, materials sent to the landfill, and inconveniences to building occupants.
Retrofits in recessions
Current economic conditions will favor the restoration of existing buildings. According to Dodge Data & Analytics, commercial construction starts are expected to fall 16% this year and 6% in 2021, even as projects entering planning remained steady and 17,000 public projects were still actively bidding at the start of Q2 2020.
According to Dodge Data & Analytics, commercial construction starts are expected to fall 16% this year and 6% in 2021.
It makes sense to see a focus on restoration when new builds slow down. If you don't have what you need to build new, you may have the means and budget to improve what you already have.   
We're beginning to see more orders for large-scale retrofits, restorations and other repair projects, as new starts indicate a downward trend. Some are to correct years of damage from seismic activity, and some are to restore the original beauty of an exterior brick façade, like the Abernathy Building in Kansas City's West Bottoms district. The owner of this former warehouse space, which has been recently converted into luxury apartments, wanted to retain features like the original "Abernathy" lettering painted over the exterior red brick, and graffiti done by a local artist. But the atmospheric dirt and general buildup from decades of neglect? They wanted that gone, and MPS Contracting of Kansas City did an expert job of restoring this brick with one of our restoration cleaners while keeping the other features intact.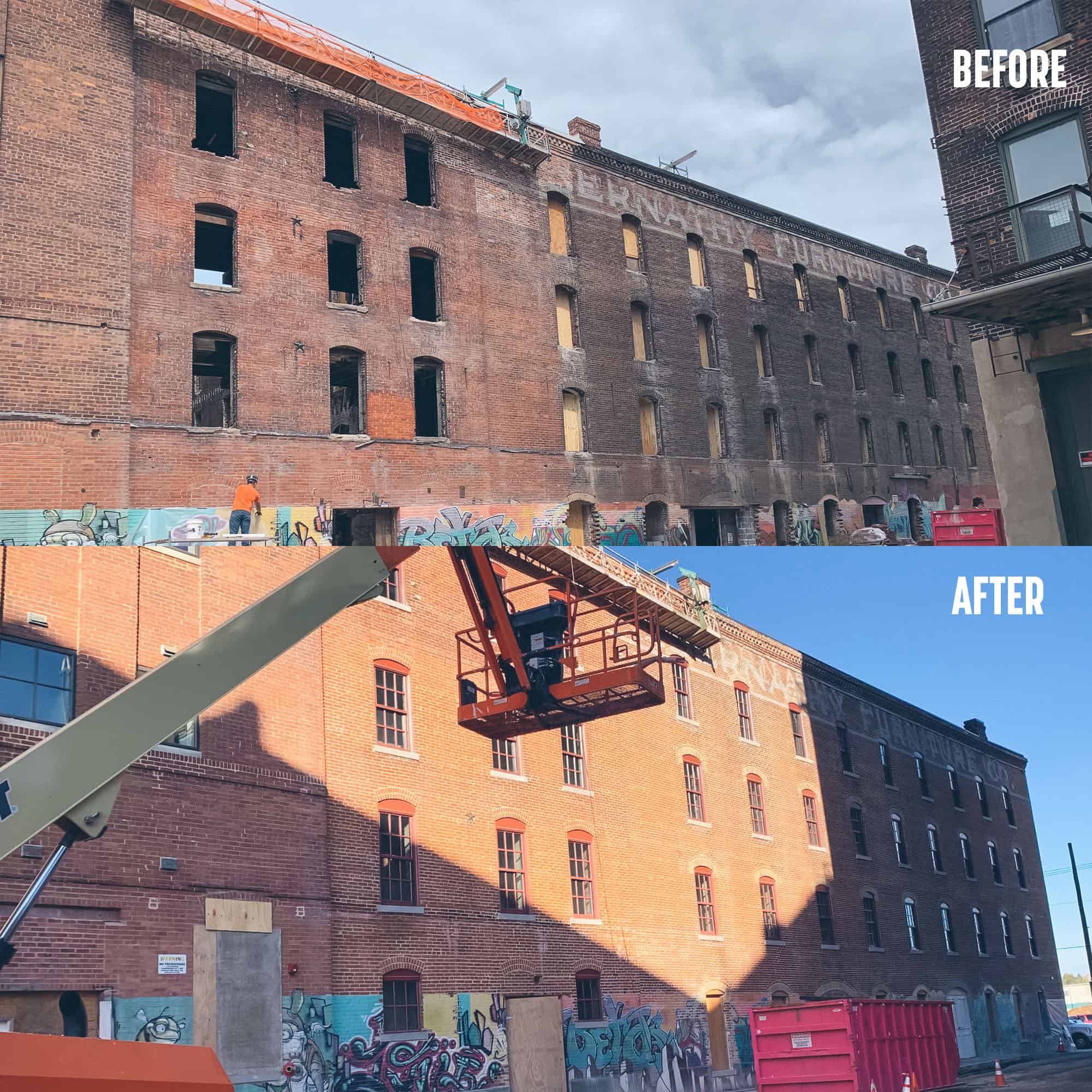 Each restoration, adaptive reuse, retrofit or remodel brings its own set of special considerations because each of these buildings is unique.
We hope for your next restoration project, you'll consider that PROSOCO offers not only a suite of products designed specifically for retrofit applications, but also a staff with a collection of technical experience and skills that can help you meet your project goals and improve your bottom line.