Rowing at Yale University in New Haven, Conn., is a tradition as old as just about any collegiate sport in the nation. The first intercollegiate event ever held in the U.S. was in 1852, when Yale challenged Harvard to a regatta.
For a tradition whose history runs so deep, the job of rebuilding a structure in honor of the program's nearly century-old historic boathouse facility while using as many reclaimed materials from the original as possible proved an undoubtedly delicate task last year.
The plans called for a new boathouse not as an exact replica so much as an homage to the historic George Adee Memorial Boathouse, built in 1911 and demolished in 2007 to make way for a new bridge that would extend I-95 along the New Haven Harbor.
In an agreement to mitigate the loss of the historic boathouse, the Connecticut Department of Transportation paid $30 million for a new structure, the Canal Dock Boathouse, to be constructed on the harbor's waterfront, about a 20-minute walk from Yale's main campus. The remaining $7 million of the $37 million project came from federal funding.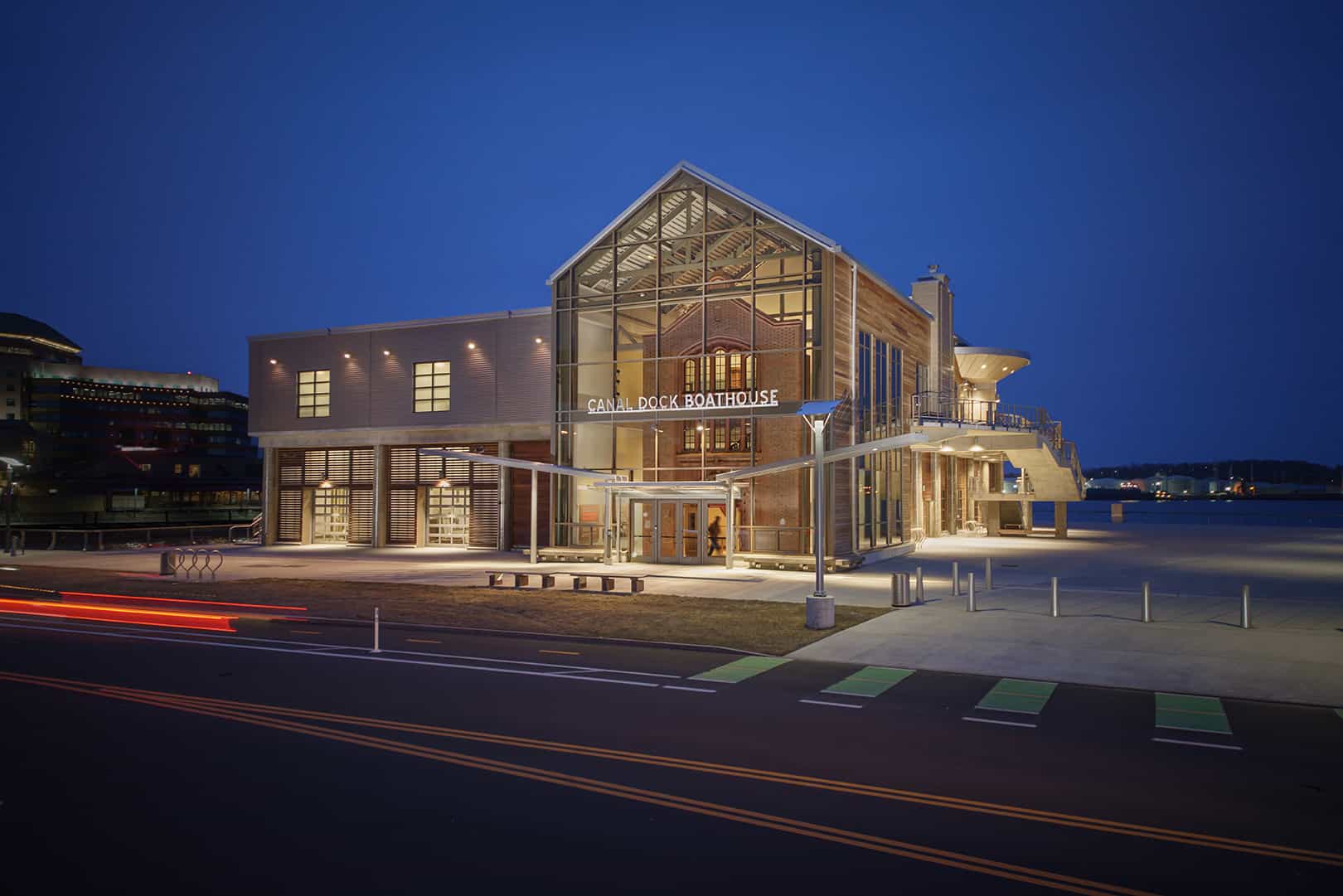 Offsetting the loss of a historic asset was a major factor in the design, said Rick Wies, AIA, principal of the project's design firm, Gregg Wies & Gardner Architects LLC.
"When there's loss of community assets, and in particular in this case, historic resources, the project could be eligible for funding if you're offsetting that loss," he said. "We basically designed a project around salvaging and rebuilding some of these historic elements and incorporating them into the building."
The new design, unveiled in September 2018 after nearly 20 years of efforts from academia, government and nonprofit sectors, includes original features like decorative windows, a stair, large trusses and an elaborate fireplace. Some of the old foundation's stones were repurposed into landscaping elements.
Most notably, 500 pieces of the original structure's terra cotta and brick were used to rebuild the original façade – which is all contained for display within the interior of the new structure.
"It's not a replica," Wies said. "We rebuilt the façade within the building in a 50-foot-high entrance atrium."
"...with this building, there were certain things we were really picky about. We were very confident specifying PROSOCO."
Rick Wies, AIA
Principal, Gregg Wies & Gardner Architects
Entrusting the envelope
To house and protect those artifacts, designers at the firm knew which products they preferred for the 32,000-square-foot structure's building envelope.
On federally funded projects where three products are required in the spec, you have to make a very strong case for proprietary products, Wies said.
"There were certain things we went to bat for. The vapor membrane was one of those. It was a case where, with this building, there were certain things we were really picky about. We were very confident specifying PROSOCO."
The project team selected PROSOCO's R-Guard suite of Joint & Seam Filler, FastFlash and Spray Wrap MVP.
"It's a great system," Wies said. "While there are other methods and products out there, being able to deal with complicated geometries and detailing and having good continuity of the membrane is what it's all about. So we've been pleased that we've been able to have that product available. We used it on the (West Haven Train Station), and we've used it since then."
"While there are other methods and products out there, being able to deal with complicated geometries and detailing and having good continuity of the membrane is what it's all about."
Rick Wies, AIA
Multipurpose memorial
At its grand opening in September 2018, the Canal Dock Boathouse was hailed as a bridge reconnecting New Haven citizens to the community's historic and underutilized waterfront.
John Pescatore, president of Canal Dock Boathouse Inc., an Olympic rower and former head coach of the Yale rowing heavyweight team, praised the programming planned for the facility in an article from the Hartford Courant.
"Through rowing, kayaking, sailing and related programs, we want to introduce young people to the waterfront and to the things they can do there," he said. "The New Haven Harbor and the Quinnipiac and the Mill rivers belong to them, and to the people of the city and beyond… we hope to gradually reclaim and celebrate this resource as a place for people to enjoy, to value, and to care for."
In addition to serving as a community education and recreation center where the public can access the water and learn how to kayak or row, the facility also offers free programs to New Haven public school students, event spaces on the second floor available to rent and 24 slips on a floating dock.
But from a historical perspective, the most interesting feature of the building is in its exhibits, "both inside and on its promenade, on the history of the harbor, the sport of rowing, and the original George Adee Memorial Boathouse…"
The total project cost came in at $41 million, but the building itself accounted for a little less than half of that, according to Wies. The other portion went toward a "resilient, 55,000-square-foot concrete platform over the shallows supported by about 300 steel piles between 80 and 90 feet long," he said.
What it's up against
Though it's nestled into the estuary between the Quinnipiac River and the New Haven Harbor, the waterfront Canal Dock Boathouse is no stranger to wind-driven rains and dangerously choppy waters from tropical storms, hurricanes and other extreme weather conditions.  
"It's right on Long Island Sound, so it's going to be hit by several wind-driven rain conditions," said Tom Lane, regional sales manager for PROSOCO who's based in Tolland, Conn. "Just last week, there was 55-mph wind-driven rain coming off of Long Island Sound. R-Guard products are the perfect selection for that kind of intense weather."
Not only have R-Guard's fluid-applied, silyl-terminated polymer products like Joint & Seam Filler, FastFlash and Cat 5 been independently tested to perform in extreme weather conditions, they also meet various testing and sustainability standards such as AAMA 714, ICC-ES AC 212, ASTM E 2357, ASTM D 1970, ASTM E 96 and ASTM E 84. 
FastFlash, the most popular product from PROSOCO's R-Guard line, is also an easier product to apply in wet weather. It bonds and cures in wet conditions and onto damp surfaces. It tolerates rain immediately after application, and can be applied in a wider range of temperatures than competitive products. Applicable when substrate temperatures are up to 110 F, FastFlash may also be applied to frost-free substrates at temperatures below 32 F; the product will not begin to cure until temperatures reach 32 F and remain above freezing.