There's nothing like the look and feel of a brand-new brick building after you've completed construction. The aesthetic appeal of a properly built brick structure is unmatched by any other material in the eyes of many. However, the post-construction clean-down process is one of the most important factors that can affect the appearance of a new home and should be carefully planned and executed.
As a builder, you know that for each brick laid, a combination of construction dirt, dried excess mortar and sometimes efflorescence will follow. Cleaning exterior brick properly is entirely possible if you apply these practices. Many problems, including loss of color, stains, surface erosion, discoloration and uneven color can happen – or be avoided – during new construction clean-down. Although this phase of construction costs only a fraction of what the rest of the project costs, it's vitally important for you to give it your full attention.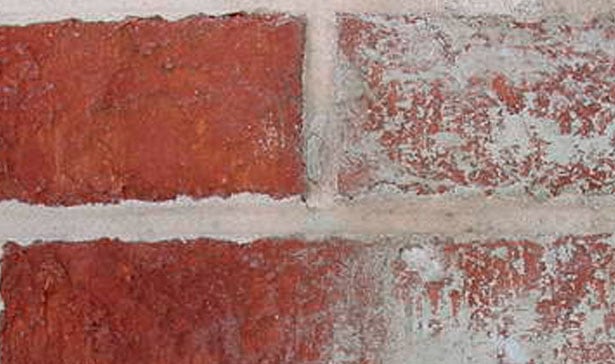 Best masonry cleaning practices
There are critical practices that can be incorporated into the brick cleaning process to ensure the optimal long-term appearance and integrity of the façade. Cleaning brick properly will make your new home look finished and enhance the color of the brick.
Clean early
When you clean before the excess mortar has a chance to get too hard, you can use a cleaner and dilution appropriate for the most sensitive masonry on the building. Based on the combination of masonry type and mortar strength, best results are typically achieved between 3 and 14 days. Contact PROSOCO for more specific recommendations on your job.
Identify the right cleaning solution
There are lots of different types of masonry and a wide variety of faux masonry options on the market today, which makes choosing the right cleaner especially important. For example, some concrete brick is made to look like clay brick. But if you clean it like clay brick, you could damage the concrete brick. Make sure your crew knows exactly what they're cleaning.
You have many options to remove common dirt, but you can't get dried mortar off of brick without using an acidic cleaner. Using a cleaner that can tackle mortar, dirt and efflorescence all at one time is important. However, not all cleaning methods yield the same result. Many builders and contractors resort to using muriatic acid for clean-down because it is slightly less expensive. Muriatic acid batches can vary greatly in strength (even before the dilution process) and are impure in content, which can lead to staining of the brick.
Instead, choose a new construction cleaner that is formulated with buffering agents that protect the brick cladding system and the mortar joints. While specially engineered cleaners may be slightly more expensive, the cost per square foot is negligible compared to the cost that could be incurred from burning, etching or permanently defacing the masonry, or compromising your reputation.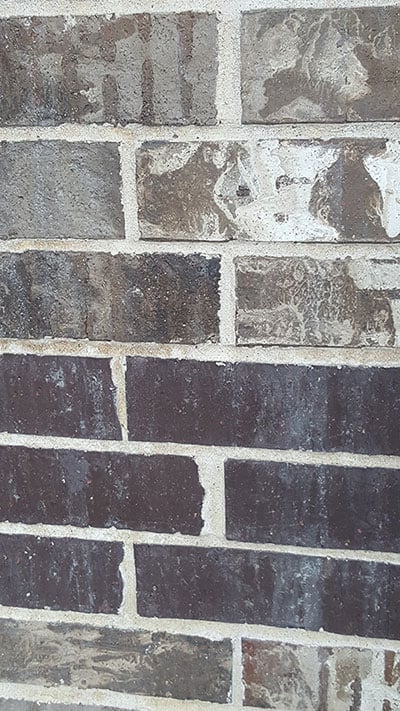 New construction cleaner checklist:
1. Choose a 'buffered' cleaner designed for maximum effectiveness. A buffered cleaner won't cause mortar joint deterioration, and will leave the masonry clean and uniform with no acid burning or streaking.

2. Only select products produced by a manufacturer with reliable technical and product field support.
3. When possible, seek a recommendation directly from the brick, block, tile or mortar manufacturer, or consult your local building supply distributor.
Clean brick properly
Start with a clear understanding of which cleaner is right for your job based on the brick and mortar types and the level of soiling. Before beginning the cleaning process, test the least aggressive dilution ratio recommended by the manufacturer and adjust from there.
Plan to pre-wet the surface with cold water before applying the cleaning solution. Fully saturate the substrate before applying the cleaning solution. This step is especially critical, because if the pores of the brick or masonry are not filled with water, they will instead absorb the cleaner, leading to surface etching, burning and additional staining.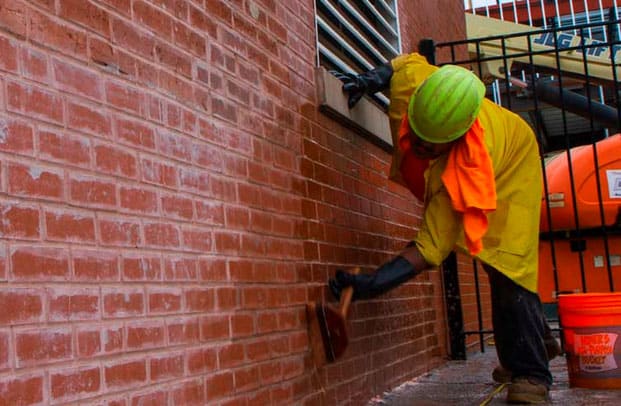 Use non-metallic chisels, wood scrapers or leftover brick to remove large mortar chunks. Remember to protect surrounding areas and surfaces like doors and windows by applying strippable masking or plastic sheeting to them.
Bucket and brush cleaning is the simplest method of cleaning brick, and yields time-tested results when done properly. A natural fiber acid brush is recommended for most masonry cleaning jobs. If you're pressure washing, flow capacity at 1000 psi and 6-8 gallons per minute is recommended.
Start at the bottom of the wall and work up, allowing the lower parts of the wall to remain wet throughout the process to prevent streaking and burning, and to prevent runoff from penetrating the masonry. Rinse the wall thoroughly to remove all of the cleaner.
It is always more cost-efficient to clean a building the right way the first time than to risk ruining the masonry with multiple failed attempts. Following these practices will minimize the room for error, leave your projects looking beautiful and ensure the long-term integrity of the masonry.
When cleaning new brick, remember that no one solution is right for every job. PROSOCO's Customer Care team is available to help you find the right product for your specific conditions and circumstances, including stain, substrate and region. You can reach them Monday through Friday, 8 a.m. to 5 p.m., Central Standard Time, at 1-800-255-4255. Visit www.prosoco.com to learn more about masonry cleaning products.