Our videographer John Young recently went to Bentonville, Ark., where PROSOCO products were being used on a concrete floor at Central Park Elementary School. He wanted to get footage for a video we're making about concrete floor maintenance.
While John was there, he got to interview the school's principal, Mr. Galen Havner about his views of concrete flooring for schools.
Mr. Havner was remarkably well-versed in the different kinds of flooring schools use, including carpet and tile. He has those at Central Park Elementary, too. I guess a principal has to know something about everything in his school.
Here are some of Mr. Havner's views about concrete floors, culled unedited from the raw video footage. And thanks to co-worker Janet Horner for the transcription!
John's first question was "how have the concrete floors worked out for you?"
Mr. Havner replied "We have been very, very happy with them. We have a lot less work with our hall polished concrete floors than we do our carpeted rooms or our tiled lunchroom. So they've been great."
"We have over 900 kids here, a staff of 100, and usually probably 100 parents in/out every day. You multiply that times 2 for each foot and there is a lot of wear and tear on the floors."
"The kids come and go to lunch, specials. They're back and forth constantly. They come in from outdoors. The floors take a beating in a public school.
"These floors hold up beautifully. We sweep them twice with a dry duster during the day and we run the floor machine and wash them at night. That's all we do. We don't do anything else. They have held up and have looked great ever since. That doesn't count too the number of carts that go up and down the hall with supplies – just all the traffic that a very big, busy building has."
John also asked about the floor work he was there to video.
"I decided this year I would like to redo our entry," Mr. Havner said. "Our halls look great but our entry gets a lot more traffic than the halls do. Some of the stain was not quite as dark as it had been. So I asked if we could get the floors re-stained. I was amazed that this was going to be a couple-of-days operation to clean them, re-stain them, polish them and they will look better than new once they're through.
"If you had terrazzo floors, you had to strip off all the wax. You had to go and take all the nicks and stains out. If you had a tile floor, you had to strip and replace bad tile. If you had carpet where you had to take out bits and pieces of the carpet that you were cleaning, all that takes the whole summer. This is a couple-day deal and we're going to have a bright, great looking floor. It's been five years and it really didn't look that bad. I just wanted it to look bright again. So it's been a very quick, easy operation."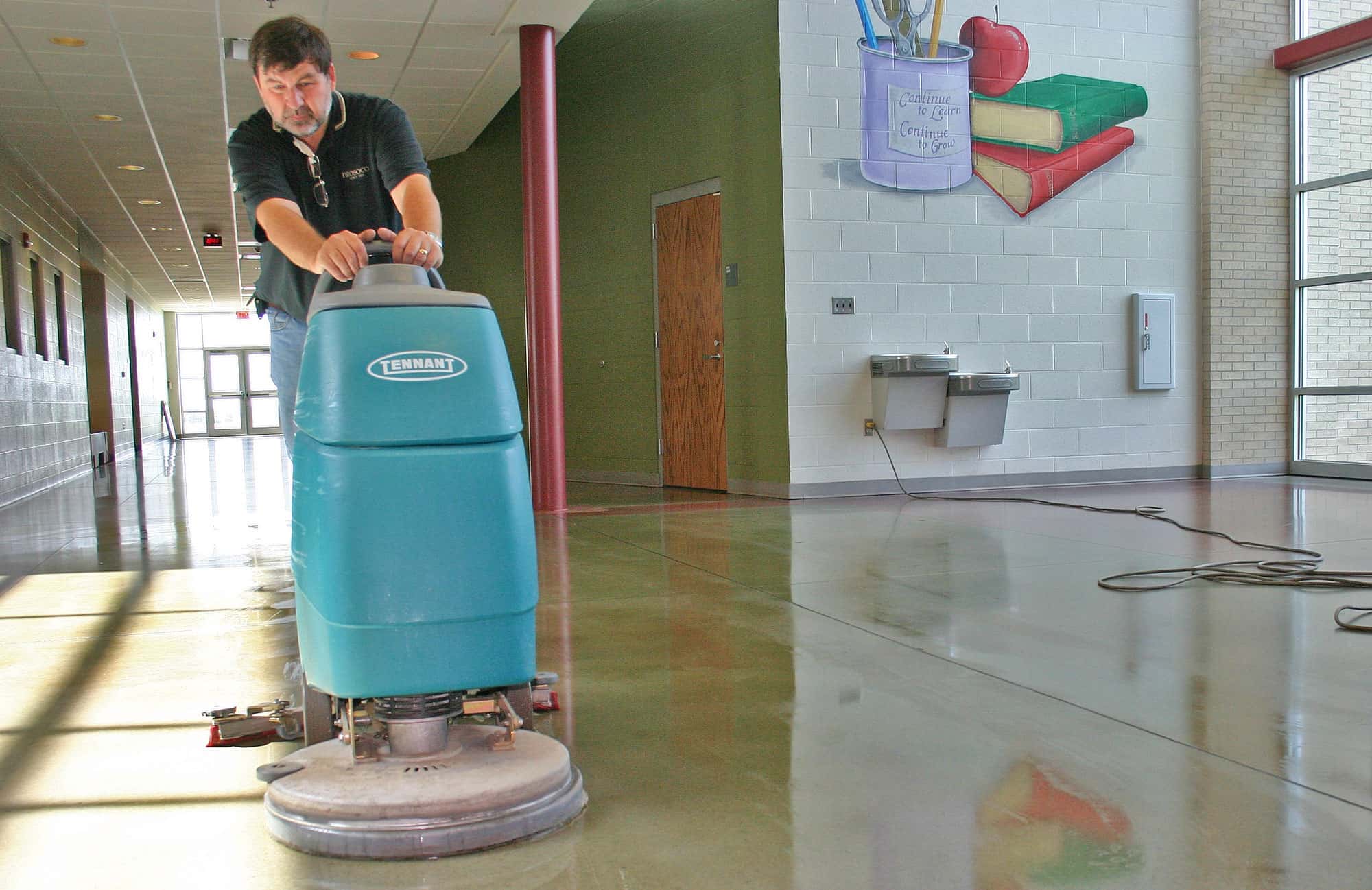 John wanted to know what, if anything, the concrete floors do for the school "atmosphere."
"I think our floor – you know the term now is pop – I think it gives us a lot of pop when people walk in," Mr. Havner said. "It's shiny. It's bright. We have our logo stained right in the middle of the entry. People come in and they get a great first impression of the building and I think it sets the tone for our school. They come in, they get a bright, clean, polished look. I think it changes an attitude even before they meet the people here. They have a good impression of the school."
What about ease of care?
"One of the great things about this floor is with custodial help you don't have to train them how to wax and how to keep your halls looking good. A terrazzo or tile floor has to be waxed and has to be done by an expert. You can't just get anybody off the street to come in and wax a floor.
"We basically can get anyone off the street to come in and sweep and run a floor machine and our halls look great. The ease of care is a huge difference. The idea of something being dropped and spilled on the floor, it can be wiped up. We don't have to do any process to it. We don't have to go back and take a stain remover or anything like that. We wipe it up, wash it and go on. It's great if there's an accident getting up when kids are sick. We can clean it, sanitize it and go on. It's great. It's just a very low maintenance, easy care flooring."