It was Spring Break 2017. Lots of undergrads at the University of Kansas in Lawrence were off on carefree vacations, frolicking on beaches, hitting the slopes or just relaxing somewhere away from the travails and worries of college.
Not Lauren Downie. She and 16 of her classmates were taking shifts grinding down, densifying and polishing the concrete floors of a 6,600-square-foot space in KU's Chalmers Hall. No, this wasn't some form of punishment. It was the passion project of future architects in KU's Dirt Works Studio course, a design-build program where students design and build a project from start to finish.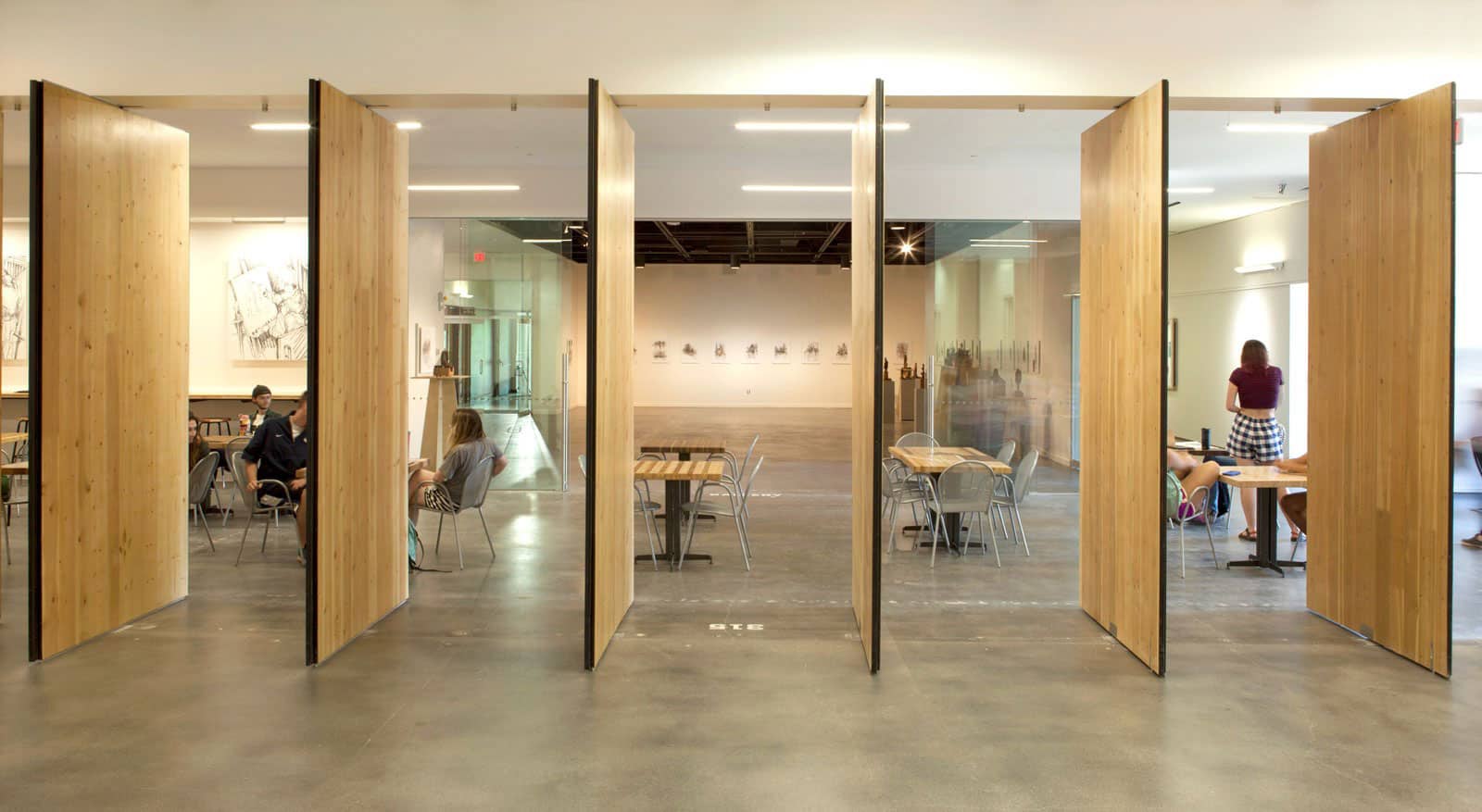 The challenge was to open up and renovate a space between two wings of the building, which houses KU's Design and Art Departments. Previously, the small space was occupied by a coffee kiosk and store selling art and design supplies.
"It was this little closet just jam-packed with all sorts of supplies," Downie said. "We were trying to brainstorm how to make it bigger, and we tapped into 6,000 square feet in the building."  
"Now it's this big open café space where you can sit with friends and work on projects, have coffee. It's a flexible space. We're also trying to have some events there. It's multi-use."
When it came to the floor, the students wanted a raw, industrial feel. Throughout the whole space, they planned to expose as many materials as possible. They had high hopes for what they would find underneath some old tile. Those hopes evaporated as they scraped it away.
"It's really helpful to know what the lines on our drawings really mean, and knowing what's feasible to ask people to build."
"It was a little rougher than we anticipated," Downie said. "That's when we pursued all the grinding options with Bledsoe Rentals. Since it was so rough, we needed some expert help to make sure we were getting the floor we wanted."
With help from Kansas City-based Bledsoe Rentals and a donation of PROSOCO Consolideck products and time from PROSOCO technical experts, students received a specialized training demo on how to use the necessary equipment and related products for a grind and finish.  
"I was really impressed with the level of engagement and interest these students showed in really understanding how to get the floors they wanted," said Clay Witt, Regional Sales Manager covering Midwestern states for PROSOCO. "That they gave up their spring breaks should tell you how dedicated they were this project, and will be to future projects as they enter the job market."
Both Consolideck LS and LS/CS were "really easy to use," said Downie. "We rolled them on with rollers. We took shifts over Spring Break."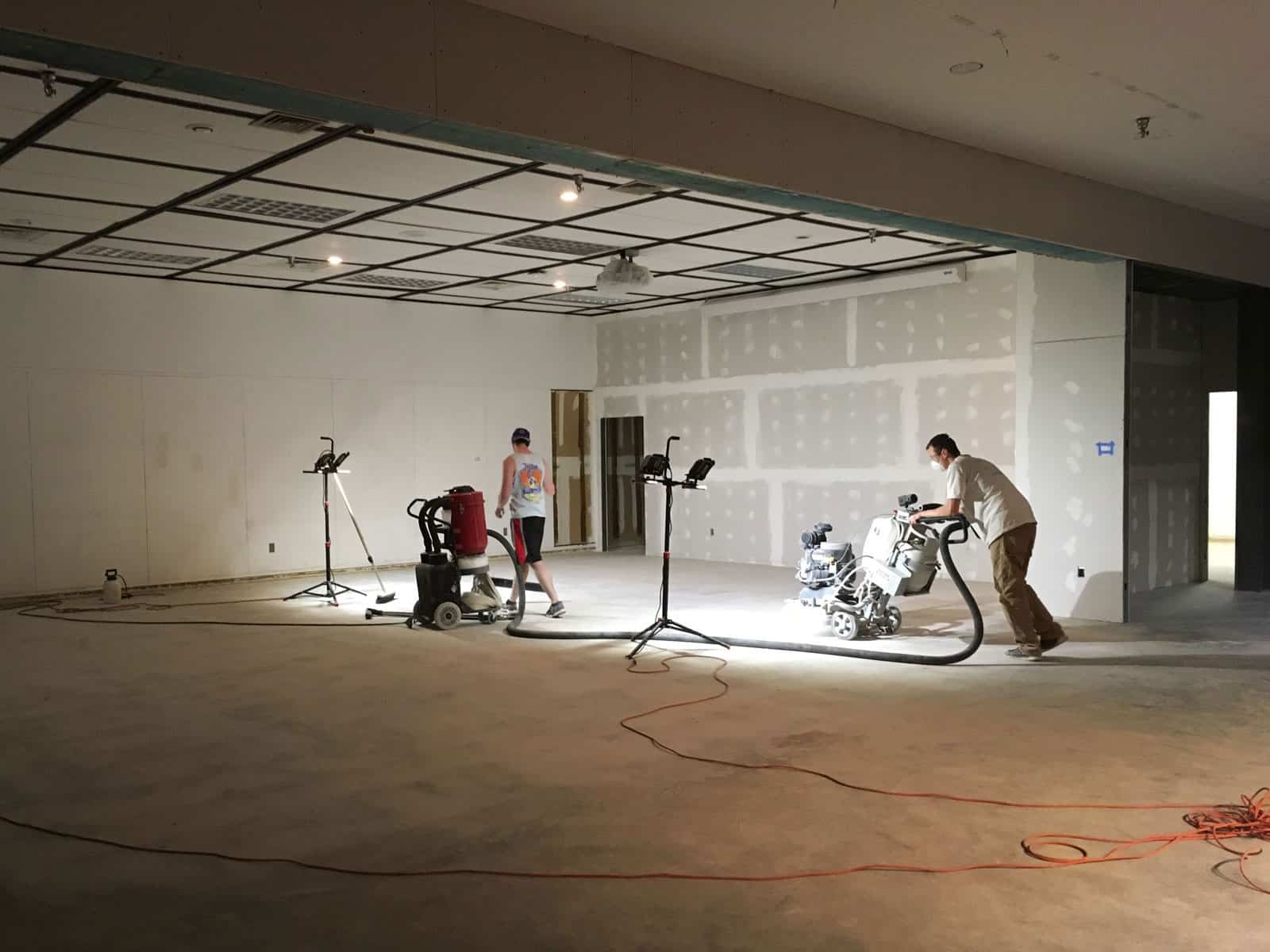 "Miraculously, we finished on time," she added, and the space officially opened during a ribbon-cutting ceremony on May 6, 2017.
Downie says the product training helped deliver the students' desired outcome for the floors.
"We're over there all the time, we were just looking at it, and it's exactly how we wanted it," Downie said in September 2017, at the start of her fourth year. "We were afraid it would be too glossy and perfect, but it has just the sheen we wanted that fits with the messy and creative aesthetic." 
Now that Downie and her classmates are fourth-year students, their attention has turned to their upper level and figuring out how they want their careers to unfold.
A lot of the Dirt Works students want to work at architecture firms. Downie is eyeing the healthcare and wellness sector. When it comes time to look for those jobs, Downie and her Dirt Works Studio classmates believe they'll have a leg up over the competition.
"There's not another third-year design-build program across the nation doing what we're doing honestly," she said.
The experience of not just designing but building a project with their own hands is a huge advantage.
"It's really helpful to know what the lines on our drawings really mean, and knowing what's feasible to ask people to build," Downie said.
Executing the project in addition to designing it was invaluable. "This was our first experience with the build, and it was mostly women, which was another neat aspect," she said. "Most of us had only done small-scale things, like Home Depot Saturday morning type things. It was a great learning experience, and we all caught on really quickly. (The class) is a huge resource."
Their work has been recognized by at least two awards programs. The Chalmers Hall Renovation was recently selected as the winner of the International Green Interior Award in the Student Category, and the winner of the American Architecture Prize in Interior Design/Commercial Interior category.