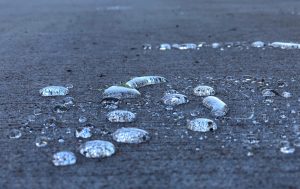 Your customers looking to weatherproof their concrete and other masonry surfaces with Saltguard or Saltguard WB this year may wonder whether a surface has been previously treated with a water repellent.
We have a really simple trick to find out: Have them pour a small container or glass of water over the surface. If the water beads up or puddles on the surface, the concrete has already been treated at some point.
If it wets out and soaks into the surface, then the surface is eligible for a water repellent.
For more information, including product data sheets, safety information and more, visit our Saltguard and Saltguard WB product pages.
As always, you can call us with any questions or to stock up on Saltguard or Saltguard WB. We're here to talk Monday through Friday, 7 a.m. to 5 p.m., Central Standard Time. 1-800-255-4255.