Industry has real power to make a difference in the health of people and the environment.
This is an idea we embrace at PROSOCO. As a manufacturer of products for the construction industry, we consider every chance possible to make a positive impact on the environment via the buildings where we all live and work.
When companies consciously make products that promote building resilience, durability and occupant health, everyone wins. Fewer building materials go to landfills each year. Buildings where PROSOCO products are used can last for centuries, an idea that may seem unusual in a society that accepts tearing down and rebuilding after 10, 20 or 30 years. We think enduring buildings should be the rule rather than the exception. It should be the expectation of all building designers, owners and operators.
Many PROSOCO products qualify for the world's highest possible green building standards that support durable and energy-efficient construction, like net-zero, Living Building Challenge, Passive House, LEED and Well.
R-Guard air and water barriers create airtight and resilient structures that resist water intrusion, even during extreme climate and weather events like hurricanes. These products also help improve indoor air quality for better occupant health and comfort by preventing condensation and mold.
Consolideck concrete flooring products create long-lasting, beautiful and durable floors that can last the life of the building.
PROSOCO cleaners and protective treatments maintain and restore buildings, keep them in functional states, help them resist deterioration, and prolong their lives.
Our masonry anchors and ties return buildings to structural soundness, enabling contractors to repair our existing building stock instead of tearing down and building new.
Many of our high-performing products across all divisions are tested to meet voluntary indoor air quality standards and reviewed to meet voluntary Red List Conformant standards.
We are proud to produce building materials that promote responsible construction practices and durable, healthier, and longer-lasting buildings.
A company's end-product isn't the only way a business can prioritize the environment.
We also look for opportunities:
In our operations
PROSOCO implemented an operational initiative in 2014 to optimize our recycling program, an effort spearheaded by a newly established "green team" committee. Beyond plastic bottles, pop cans and office paper, we examined materials and production byproducts and found ways to reduce waste or put waste materials back into use.
In 2016, we conducted an energy audit and identified ways to reduce our energy consumption. In 2017 and 2018, we installed energy-efficient lighting with occupancy sensors throughout the office and production areas. At one building on the PROSOCO campus, we installed more than 200 solar panels to further reduce operating expenses and our carbon footprint.
In our community
Opportunities to give back to our community of Lawrence, Kan., are assessed based on need and alignment with our mission of improving the structures where we work and live. These standards make our participation in Studio 804's Passive House projects an easy choice each year.
In 2015 and 2016, we worked with a local architect firm and the University of Kansas to build and install a bee hotel at a KU Biological Field Station, which demonstrates how to protect and improve habitat for solitary bees.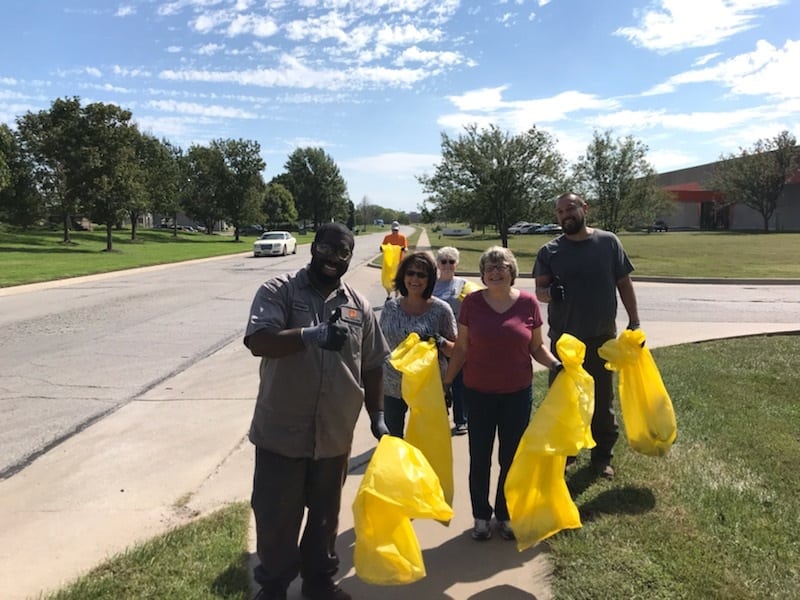 In our corporate decisions
In 2013, we reworked the ingredients in our R-Guard line of air and water barriers in order to qualify for use on Seattle's Bullitt Center, the "world's greenest commercial building" and a certified Living Building. No other manufacturer considered such a huge investment in a product line reformulation with no tangible return.
We developed a new all-purpose cleaner and reformulated a floor cleaner to meet EPA Safer Choice standards for healthier cleaning of indoor and outdoor environments.
In our legislative involvement
PROSOCO actively advocates for opportunities at the legislative level to advance our mission of healthier, more energy efficient, and longer-lasting buildings.
Unfortunately, our home state of Kansas has scored 46th in the nation in energy efficiency. We have more room for improvement than most, and we strive to optimize our impact at the state level.
In 2019, PROSOCO became an official corporate signer of the Kansas Climate + Health Declaration, an initiative to "increase awareness of the impacts of climate change on public health, to increase civic engagement on climate action in Kansas, and to advance policies that build community resilience and safeguard the future of our state."
The official statement from PROSOCO (and its sister company Build SMART) is:
PROSOCO and Build SMART, both located in Lawrence, Kan., manufacture building products that promote energy efficiency, durability, resiliency, sustainability and improved occupant health.
PROSOCO, an 80-year-old family-owned company, manufactures specialty construction products that help make buildings look better and last longer.
Its sister company, Build SMART, manufactures panelized building enclosure systems to provide a practical and highly energy-efficient building solution for a carbon-neutral future.
Both companies are proud to be corporate signers of the Kansas Climate and Health Declaration.
For more information, visit the Kansas Climate + Health Declaration website.