Over the last several years, the advent of building science has influenced many approaches to better building, especially those involved in implementing greater energy efficiency. We've seen, for example, over the past decade, building science experts strongly advise creating weather-tight buildings where the stopping of air infiltration is paramount. Air often holds a great deal of moisture in vapor form and when this air circulates, so does the vapor, which can ultimately result in damage and mold. The sound advice from the experts opened up important ways to approach insulating and sealing buildings.
Today, as a result, we're much more focused on managing air infiltration. When planning a new build, the control of air movement should be at the top of the list for energy efficiency and moisture control. For new construction, the use of an effective masonry veneer tie provides several weather-tight advantages, including the introduction of insulating foam boards that can be placed on the exterior of buildings.
What was initially lacking was a means to ensure the stability and structural integrity of the masonry veneers and how they were attached or anchored to the structure. Masonry veneers offer stunning aesthetics and high performance, but despite their looks and advantages, when anchored improperly, they can be susceptible to air barrier integrity and moisture control problems. At the heart of this issue is the use of an inferior tie and fastener system.
The optimal tie system for anchoring a masonry veneer must meet rigid criteria involving stiffness, strength, spacing, fastener features and requirements, materials and finish, and adjustability. It must also be able to adapt to a variety of wall configurations and accommodate insulation of varying types and thicknesses. One such system, developed by PROSOCO, effectively preserves the envelope and keeps air infiltration from occurring.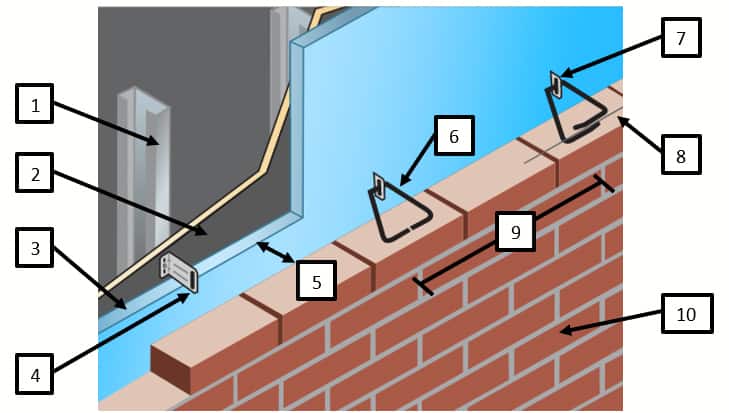 Back-up: metal framing, wood framing, or masonry
Sheathing with air and vapor barrier
Insulation
PROSOCO Masonry Veneer-Tie base plate sized for insulation, firmly fastened to the framing, and assuredly sealed
Wall Cavity
PROSOCO Masonry Veneer-Tie assembly with 3/16-inch diameter triangular tie sized to a length required to obtain proper veneer embedment
PROSOCO Masonry Veneer-Tie base plate with a slot for vertical adjustability of the wall tie
Seismic wire reinforcement engages with the tie where required
The typical spacing per building code requirements is 16-inch horizontal by 24-inch vertical
Typical brick veneer
Uses and Benefits of Masonry Veneer-Tie
PROSOCO's Masonry Veneer-Tie is recommended for optimal air barrier integrity when used for anchoring a masonry veneer. It is designed for new commercial and residential construction when introducing insulating foam board or other insulating material on the outside of the building. For example, if designing a brick-veneered building, the ties are placed on the exterior skin of the structure to hold the veneer in place. The illustration below provides an overview of the relationship between the construction elements for a veneer wall.
6 Beneficial Features of the patented PROSOCO Masonry Veneer-Ties system:
1. Non-Invasive: The ties are one-third less invasive than barrel-type ties and cause fewer breaches in the air and vapor barrier.
2. Strength: They provide excellent strength and performance in worst-case scenarios. A tie anchored directly to the studs with foam insulation over it provides a stable foundation to lock the building together and provides greater structural strength.
3. Compressive Stresses: The ties feature an ultimate capacity of 717 lbs. tension and 1,050 lbs. of compression at its maximum adjustability (the weakest location for the tie) for a 4" cavity.
4. Structural Capacity: In a building with structural and seismic movement, this tie locks everything together tightly.
5. Assembly Stiffness: PROSOCO provides wall ties and anchors that illustrate tie stiffness 3 times that of conventional ties. The tie system achieves assembly stiffness greater than 63,000 pounds per inch in tension and 13,800 lbs. per inch in compression.
6. Accommodates Insulation: The system enables the use of foam board insulation on the outside of a building up to 4" thick, creating a weathertight construction of the wall system. This is critical because using exterior foam insulation reduces heat transfer across the wall through framing members, keeping the sheathing warmer, which reduces the risk of condensation and mold growth in colder climates.
By using a system such as PROSOCO Masonry Veneer-Ties, challenges are met by providing efficient air infiltration control, more effective insulation, and ultimately a more stable structure.